English Trifle
The word "trifle" comes from the old French term "trufle," and means something of little consequence.  Had they tasted this trifle they might not have thought so!  A proper English trifle is made with egg custard, cake, usually stale or left over cake, with a fruit syrup and sherry and topped with whipped cream.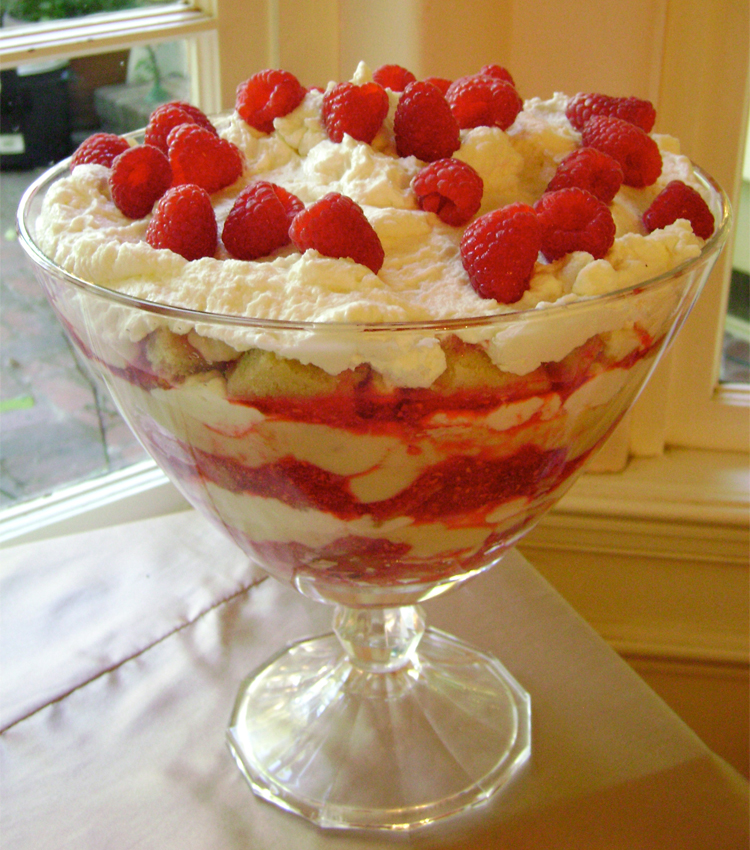 We will give the recipe for each of the important components but obviously if you happen to have some stale cake lying about feel free to use it.  Also we used fresh raspberries and Fresh Raspberry Freezer Jam but store bought jam or strawberries and strawberry jam are equally delicious.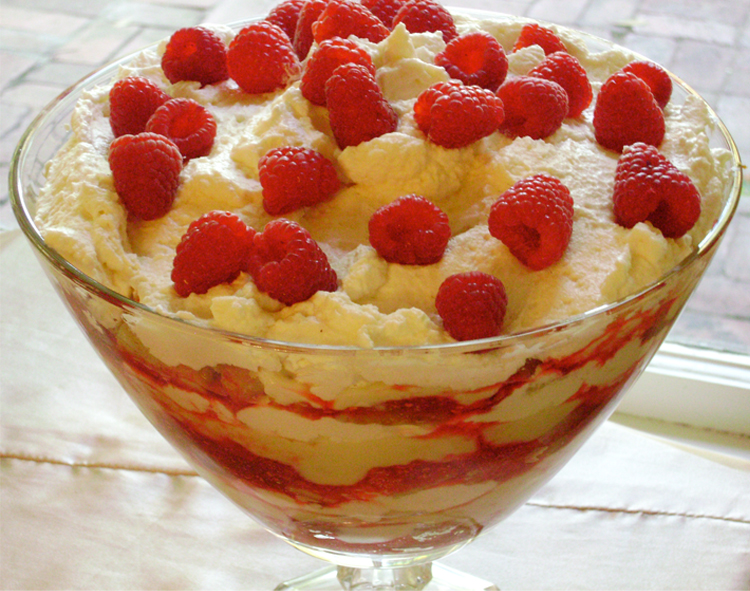 English Trifle
makes one trifle

1 pound cake cut into chunks
1 recipe vanilla custard pudding
1 jar raspberry jam
2 cups whipped cream
1 pint fresh raspberries
Gran Marnier or sherry
Place a Layer of pound cake in the bottom of a glass serving bowl.  Sprinkle lightly with Gran Marnier or sherry.  Top with a layer of raspberry jam to coat.  Then add layer of custard.   Repeat ending with custard and then top with whipped cream and fresh berries.
Pound Cake
1 cup butter
1 cup sugar
4 eggs
1 cup flour
Cream butter and sugar until light and fluffy.  Add eggs, one at a time, mixing well after each one.  Add flour and mix well.  The longer you beat the softer the cake will be.  Fold into a buttered loaf pan.   Bake for 45 minutes – 1 hour in a 325 degree oven.  The length of baking time will be determined by the type and size of pan used.  When the cake has cooled remove from pan.
Vanilla Custard Pudding
1/3 cup corn starch
½ cup sugar
½ teaspoon salt
2 ½ cups milk
2 egg yolks
4 tablespoons butter
1 teaspoon vanilla
Put corn starch, sugar and salt in a sauce pan and stir together.  Slowly add milk and bring to a simmer stirring continually.  When mixture begins to thicken, remove from heat and add a small amount (1/4 cup approximately) to egg yolks.  You stir this together to keep temper yolks or keep them from cooking instantly in hot custard .  Return this mixture to the pan and continue cooking over a medium heat, about 1-2 minutes, until mixture is quite thickened.  Remove from heat and stir in butter until it melts and then add in vanilla.  Cool until ready to use.
Whipped Cream
2 cups heavy cream
2 Tablespoons sugar
1 teaspoon vanilla
Beat or whip cream with sugar and vanilla until soft peaks are formed.  Do not over beat.