Food For Royals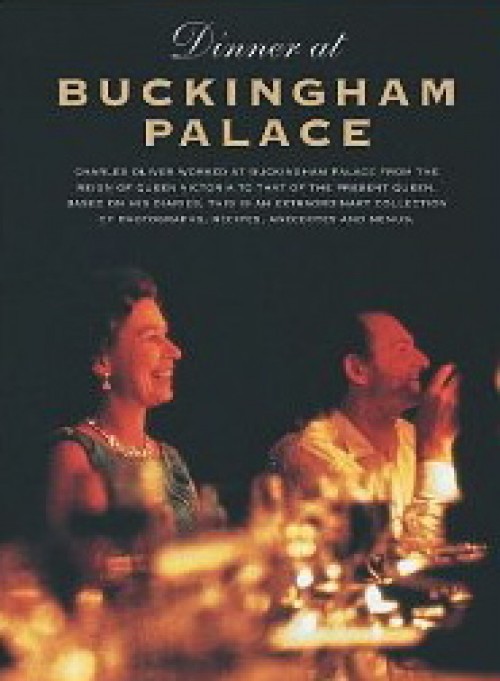 All of this week, we have showered you with majestic information giving you a lot of magnificent food for thought.  Now we are going to give you some "Food For Royals"!
Although the French have had branches of their famous "Cordon Bleu" cooking school in London for years and years and years, England is not known for its culinary fare.  That is not to say that there is not good food in England.  London has some of the finest restaurants in the world and certainly, in London, you can find whatever your palate desires.
Food tends to be quite plain in England.  I grew to really enjoy it as, when I went to boarding school, I had to learn to love it otherwise I would have starved!
One of the favorite English comfort foods is "Shepherd's Pie."  In order not to waste a scrap of food, the shepherd's wife would put all of the leftovers in a pie.   Lamb, of course, mixed with any vegetables she happened to have,  covered with a mashed potato top.  People are still making and enjoying this Pie today but not necessarily with leftovers!  I like to make it with ground beef and, actually, the correct name for that is "Cottage Pie."  Easy, easy to make and yummy to eat, here is the recipe.  Again, remember, there is no rule as to what goes into this Pie.  The following recipe is what I put, more or less,  into Shepherd's Pie when I make it.
Shepherd's Pie
2-1/2 lb ground beef
1/2 lb sliced mushrooms
2 onions, cut in half and sliced
1 16 oz can corn kernels
stewed tomatoes
any other vegetables you would like to put in
gravy mix or flour
8 potatoes, chopped
a little grated cheese if you would like it on top
butter
milk
salt and pepper
Boil potatoes and mash them with butter, milk, salt and pepper to taste.  Set aside.
Sauté onions and mushrooms in small frying pan.  In large frying pan, sauté the ground beef.   Add corn and tomatoes (and any other veggies you might like), stirring occasionally.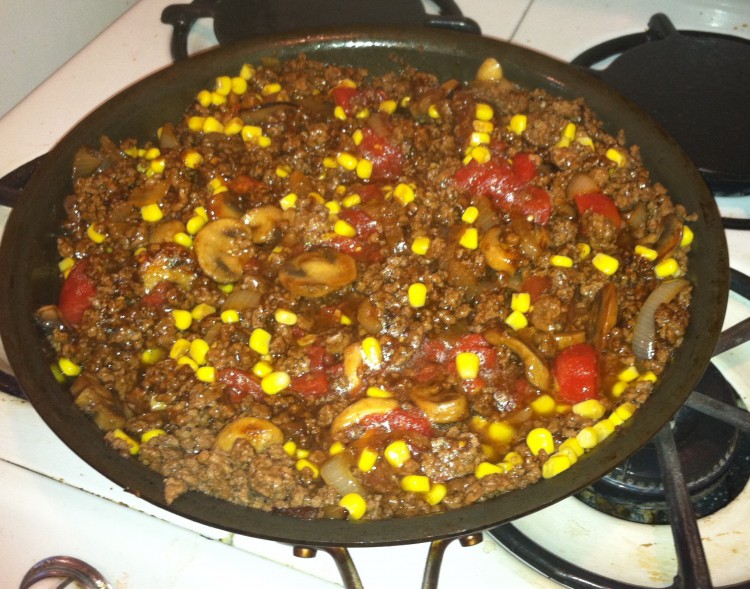 If using flour, add a little flour to the mix to thicken slightly.  If using gravy mix, add that.  Add the onions and mushrooms to the mix and stir.
Place in a casserole dish and put the mashed potatoes on top.  Put some salt and pepper on top and a bit of grated cheese, if you would like.


Bake at 350 degrees for 45 minutes to 1 hour until top is golden brown.
Serve with a little green salad and voilà, dinner is ready!

Some facts about modern state banquets
Takes two days to lay the 175ft-long dining table at Buckingham Palace
Each place setting measures 45cm and a rod is used to achieve the exact alignment of chair and table
1,104 glasses are used, six for each guest
George IV's 4,000-piece Grand Service is used
Takes eight people three weeks to clean the service
170 linen napkins, with the Queen's monogram, are folded by one man in the shape of a Dutch bonnet
(Source: Royal Collection)
Ever wonder what a queen eats for breakfast?  Well, wonder no more!  Now you too can eat like a queen….at least in the morning….with very little effort.  Queen Elizabeth likes very simple food.  As Jackie noted above, the food in England, for the most part any way, is quite plain.  The Queen reportedly has the same breakfast every morning….tea, toast and marmalade.  Plain, yes, but also quite delicious and very simple to make.  If you have never tried making any sort of preserves or jam, this is a perfect one to start with because it is 2 ingredients, oranges and sugar, and it couldn't be any easier.  (No need to add pectin as you normally would in jam because the oranges have plenty of pectin naturally which thickens your jam as it cools.)
Even if you think you don't like marmalade this one is worth trying.  If you like oranges, you'll like this… because there is no water added using this simple method of preparation, this marmalade is packed with just the sweet flavor of oranges.  You can also make this with grapefruits instead of oranges if you prefer, or really live on the wild side and make a marmalade using both together



Orange Marmalade
4 oranges
2 cups of sugar, approximately
Before you begin, place a small plate in the freezer to chill.  Wash and dry two 1 cup jars, or one 2 cup jar, and set aside.
Using a vegetable peeler remove the rind of the oranges in strips being careful to only get the thinner outer orange part of the skin and not the thicker white part underneath.  (This is because the white between the skin and the flesh of the orange is very bitter and you don't want it in your jam.)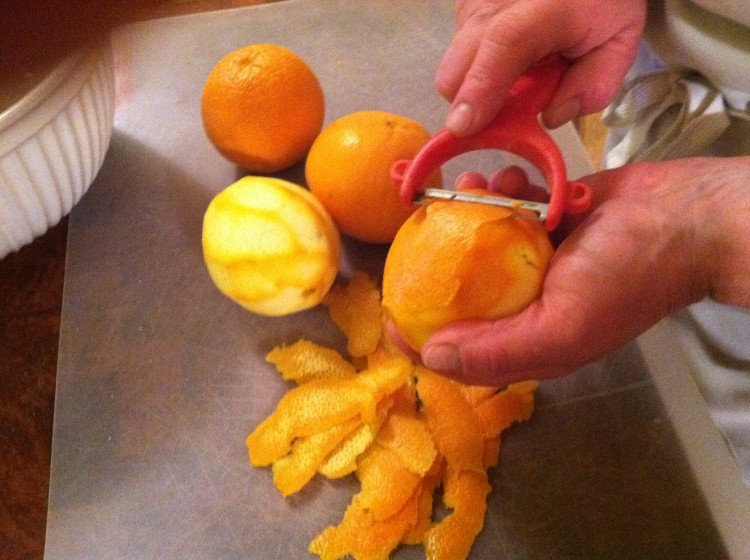 Cut the orange rind into fine strips and place in a microwave safe bowl that will hold at least 4 cups.  Now using a paring knife cut away the white part of the orange to reveal the flesh.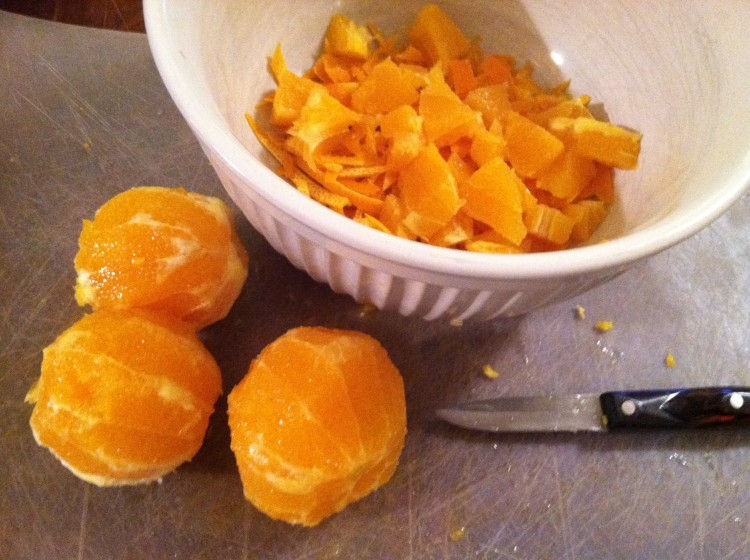 Cut the orange up into small pieces being sure to remove any seeds you find.  Put the cut up orange and any juice that has collected on the cutting board into the bowl with the rind.  Add approximately 2 cups of sugar, more if there appears to be more than 2 cups of orange in the bowl.  The goal is to have equal parts of oranges and sugar.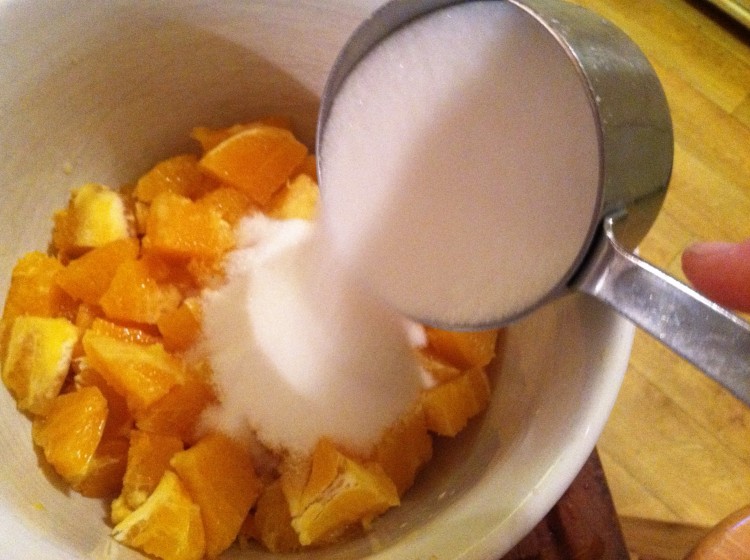 Stir together and then place the bowl in the microwave oven for 20 minutes, stopping it every 3-4 minutes to stir the mixture.  After twenty minutes, put a small amount on the cold plate you've had in the freezer.  Wait 30 seconds and draw your finger through the jam.  If it stays partially separated where your finger has gone through it, the jam is done.  If it is still very runny, return it to the microwave for another 5 minutes.  Repeat this again for an additional 5 minutes if necessary, it may take up to a total of 30 minutes to be thick enough to stay somewhat separated when your finger is run through it.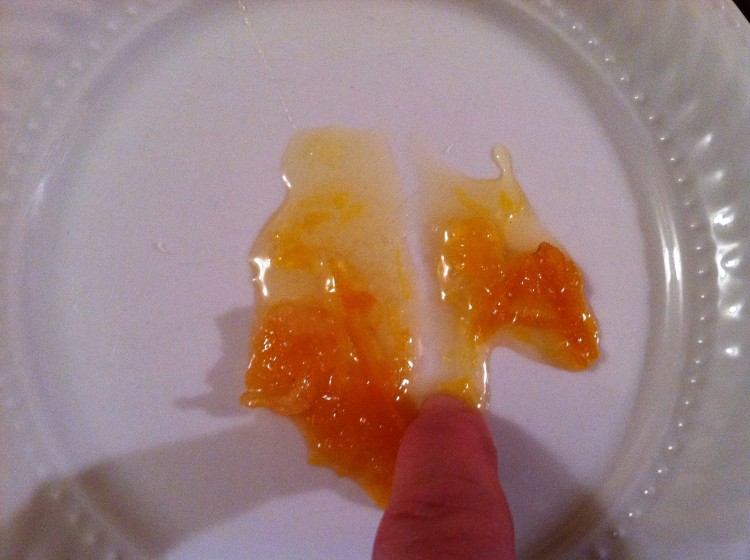 Fill the jar or jars with hot jam and screw the lid on then, turn the jar upside down.  The hot liquidy jam will sterilize the lid and create a seal.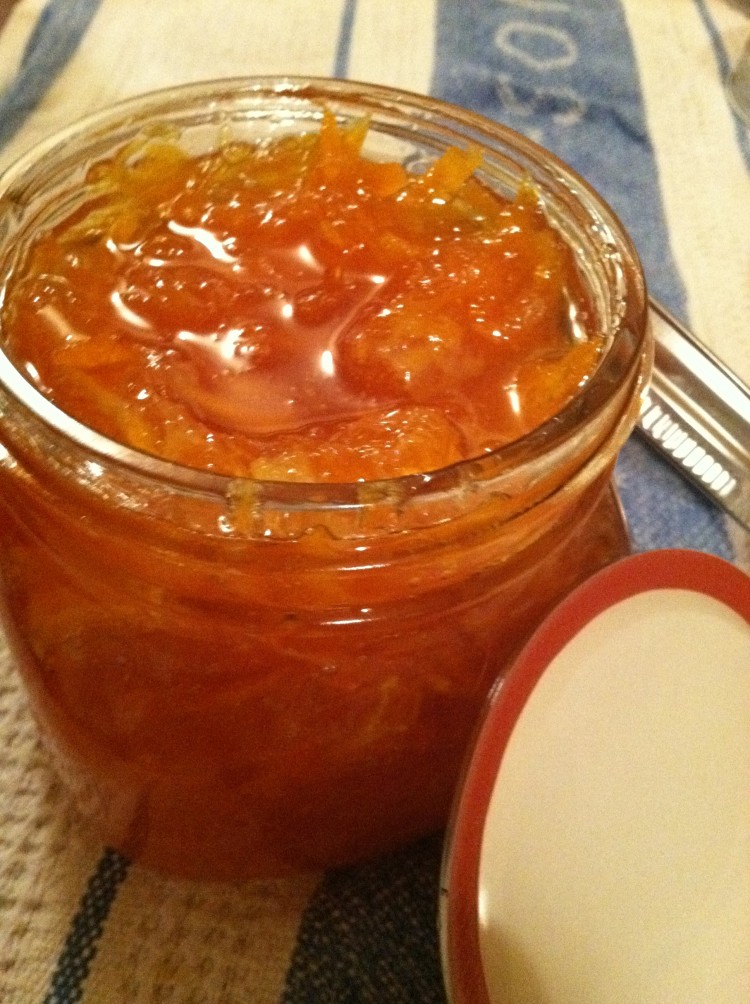 Store in the refrigerator and tomorrow, come breakfast, you can eat like the Queen!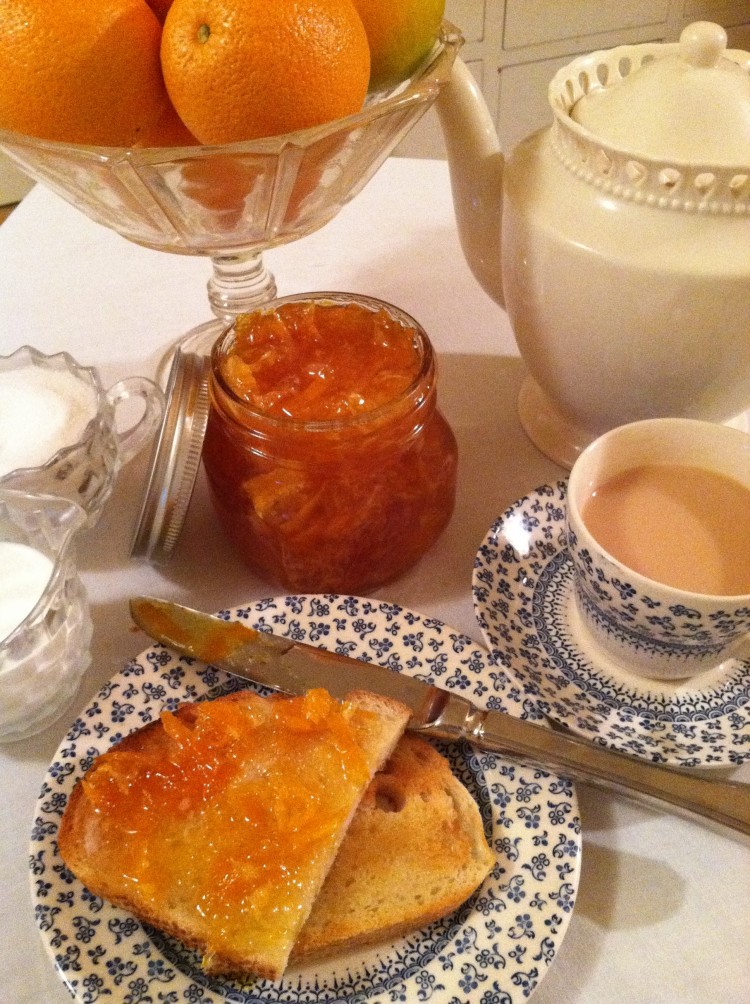 If breakfast isn't your thing,  but you still have a royal appetite, you can finish your dinner with one of the most traditionally English of all desserts, the trifle.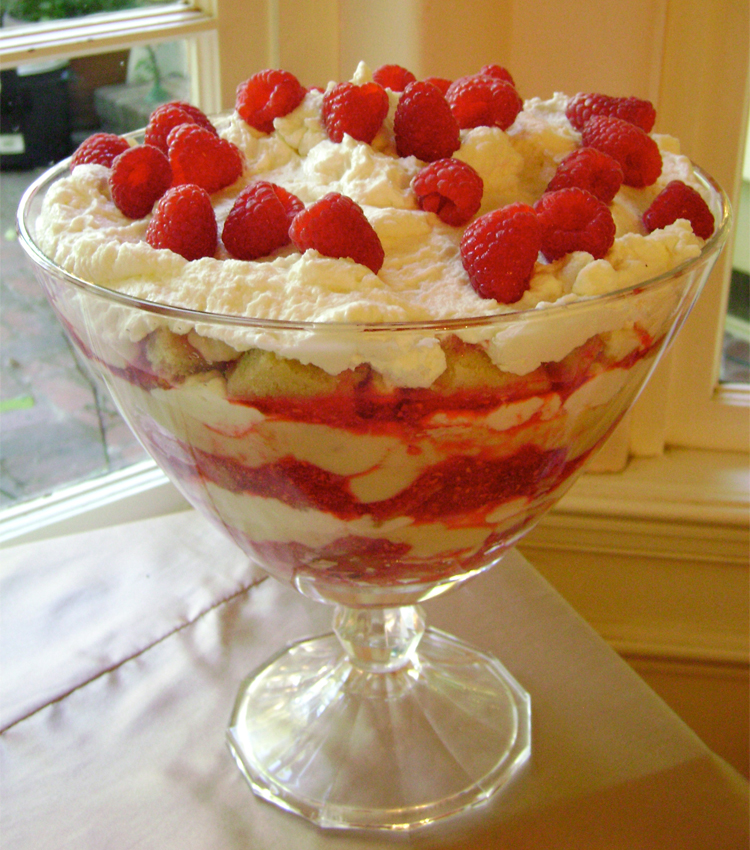 Whichever of these dishes you try, we wish you love, joy, abundant living and in this case, happy royal eating!

For an inside glimpse of how the royals dine here are two books to check out.   The first is Dinner At Buckingham Palace which is a collection of menus and recipes, stories and photos gathered over the years by Charles Oliver, who loyally served the royal families from Queen Victoria to the present reigning Queen Elizabeth.  The second one you might enjoy is Eating Royally, written by Darren McGrady, the private chef to Princess Diana.