Chicken Enchiladas -Olé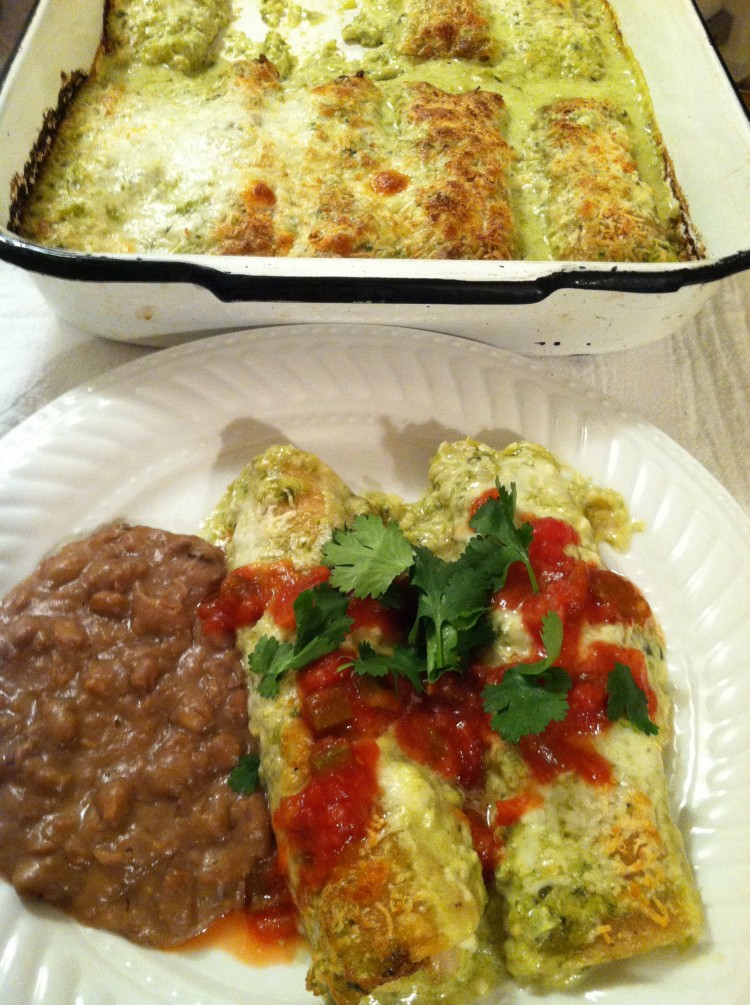 Growing up in Los Angeles with family roots in Texas, Mexican food has always been a staple at our table… this recipe is a relatively new  addition that promises to be a favorite for many years to come:)These are simple to make and simply delicious to eat.  Try them soon….this weekend maybe.  You won't be sorry!  They can only bring your family love, joy and much abundant living.

Chicken Enchiladas*
1 whole rotisserie chicken, shredded (you can also use 3-4 roasted chicken breasts or thighs)
1  pound tomatillos, chopped (remove the papery outer covering)
1 white onion, chopped
2 poblano chiles, chopped
2 cloves garlic, chopped
1 teaspoon salt
1/2 teaspoon black pepper
2  teaspoons cumin
1 cup heavy cream
1/2 pound jack cheese or ques0 fresco, grated
8 corn tortillas
Grape seed oil or corn oil
Salsa
Cilantro leaves
Heat the oven to 400 degrees.  Put about 2 tablespoons of oil in a frying pan and add chopped tomatillos, onion, poblano chiles, garlic, salt and pepper and cumin.  Saute over a medium high heat until the vegetables are soft and tender, about 10 minutes.  Place all of this mixture in a blender or food processor and add cream.  Puree for a few seconds.
In a bowl add shredded chicken, 1/2 of the grated cheese and about 1/2 cup of the pureed tomatillo/chile sauce. Stir to combine.  The sauce is just there to hold the chicken and cheese together so don't use too much only as much as is needed to accomplish this.
Spread about 3/4 – 1 cup sauce in the bottom of a 9×13″ baking pan.  Put enough oil in a frying pan to cover the bottom and heat the oil.  Place each tortilla in the oil one at a time for only a couple of seconds on each side to soften the tortillas and make them pliable.  Fill each one with a couple spoonfuls of chicken/cheese mixture  and roll tortillas up.  Place rolled enchiladas side by side in baking dish.  Pour the remaining sauce over the top and sprinkle the rest of the cheese on top of the sauce.
Bake until browned and bubbly, about 15 minutes.  Top with salsa and some cilantro.  Serve with pinto beans. A margarita and some fresh chips and guacamole or some homemade torillas with butter couldn't hurt either

 OLÉ!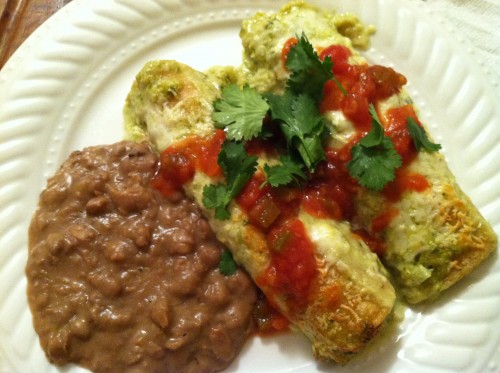 * This recipe is my modified version of one that was published in the May 2009 Real Simple entitled Zesty Chicken Enchiladas