An "All American" Pie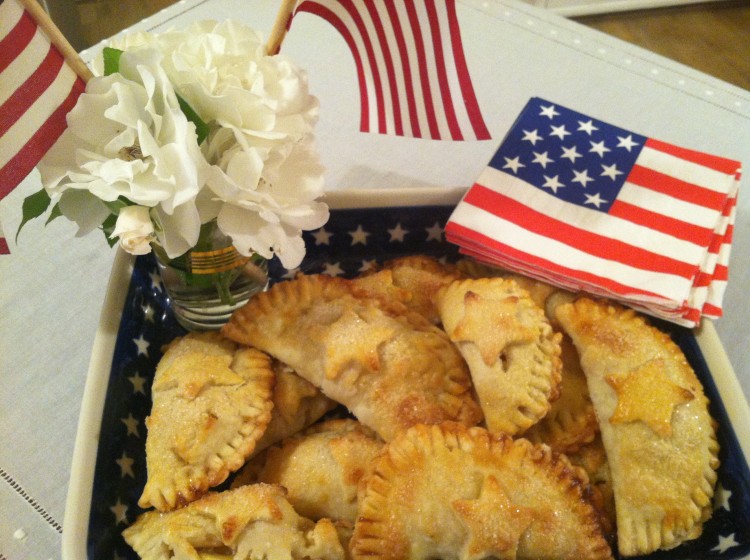 What could be more American than any version of apple pie?  You will love these little Apple Hand Pies.  They are perfect for the 4th of July… as the saying goes, something truly American is "as American as apple pie!"At your 4th of July celebration we have a perfect apple pie dessert….Apple Hand Pies!  What makes these particularly delicious is the ratio of crust to filling.  The finely diced apples and the crust rolled out very thinly gives you a perfectly balanced pie with juicy sweet filling and flaky crust.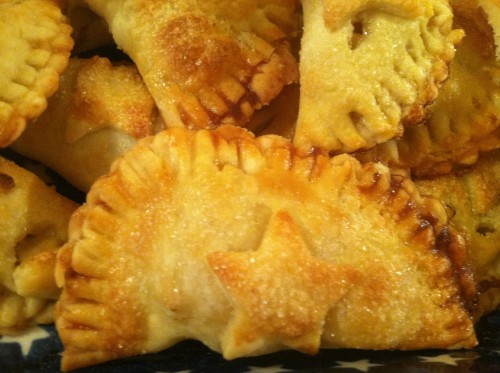 The perfectly sweet ending to a happy 4th of July celebration…. Happy Birthday America!

Apple Hand Pies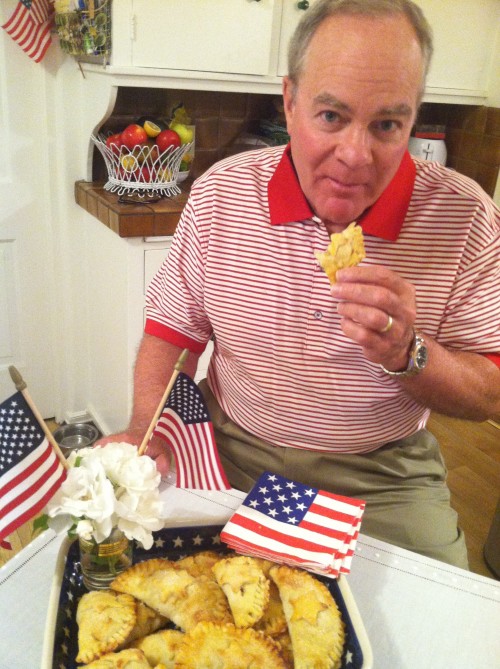 Makes 2 dozen
1 recipe pie crust
4 apples (Gala, Fuji, Granny Smith, Pippin, 1 of each or any combination that you want)
1/2 cup of brown sugar (2 Tablespoons per apple)*
1/2 lemon, juiced (approximately 1 teaspoon per apple)*
2 Tablespoons of cornstarch (1/2 T per apple)*
2 Tablespoons of heavy cream (1/2 T per apple)*
4 Tablespoons butter, cut into very small bits (1 T per apple)*
* We have given you the proportions of ingredients as "per apple" so that you are free to use more or less apples and still keep all the ingredients in balance.
Roll out half of the pie crust and, using a 4″ round pastry cutter, cut out circles of dough.  If you don't have a large round cutter you can use a small saucer as a guide and then use a knife to cut circles of dough around the plate.
Peel apples and core them and then chop them finely.  Add sugar, lemon juice, cornstarch, cream and butter.  Stir to mix.
Roll out each cut circle of dough a second time to get them as thin as possible.  Fill each round of dough with a spoonful of apples.  Fold dough over into a semi-circle and, using a fork, press the edges together.  This makes them look like pretty ruffled petticoats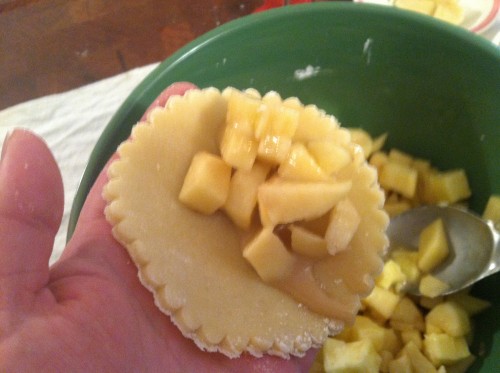 I happen to have a small star cookie cutter so I used it to cut out stars as decoration for each hand pie.  You could use any little cookie cutter you have or you could cut shapes with your knife freehand, if you want to have an embellsihment on your pies.  Otherwise, just use the fork to seal the edges and cut  an "A" for apple on each pie or any squiggle you like.
Place the pies on a lined baking sheet.  Brush the top of each pie with egg wash (this is just a lightly beaten egg with a splash of milk), then sprinkle with sugar.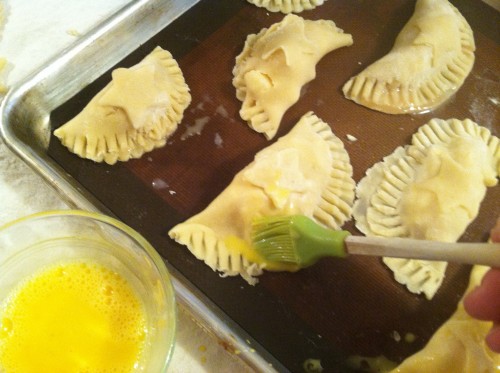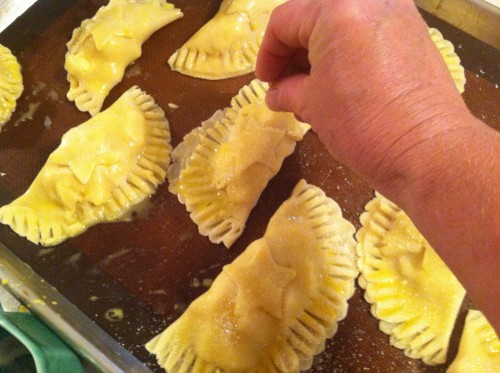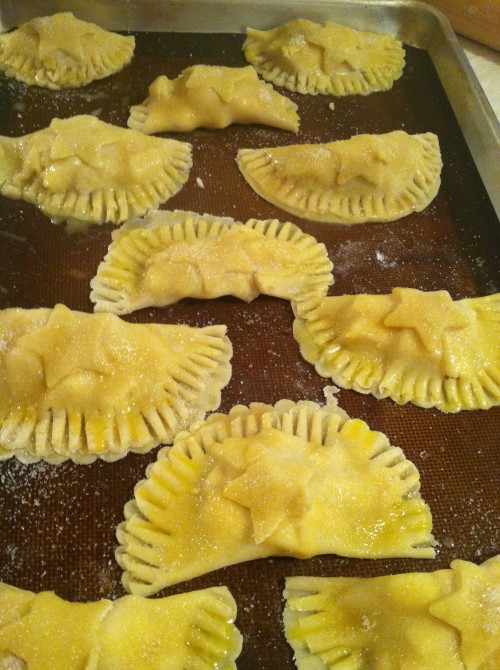 Bake at 375 degrees for 15 minutes or until nicely browned.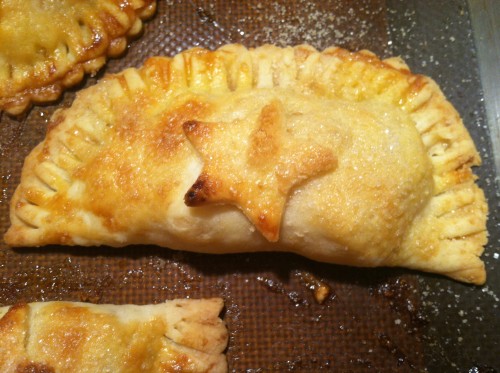 Repeat this with remaining dough or use a different fruit for the filling, if you want a variety.
You may be wondering why there is no cinnamon in the filling.   Since we used brown sugar and butter and cream, we think the filling has a little more of a caramel apple flavor and doesn't need the cinnamon.  You can certainly add it if you wish to.
We chose apple as the filling but you could also use blueberries or peaches.  If you use blueberries add a dash of nutmeg and a tiny bit of grated orange rind.  If you are using peaches add 1/4 teaspoon of almond extract.
As a reminder, here are just a few of some other ideas we've previously shared that you might also want to make for your special 4th of July celebrtation: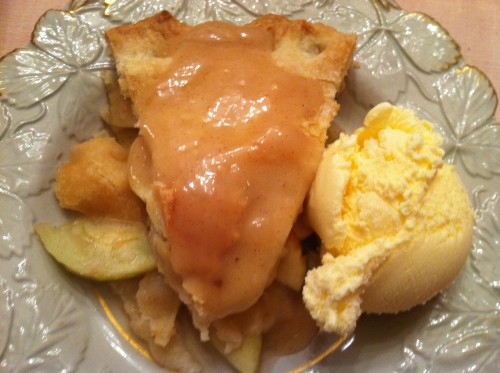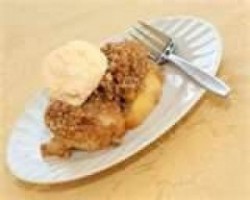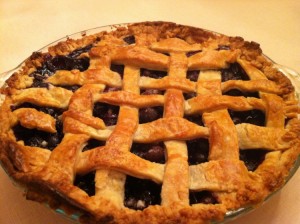 Strawberry Buttermilk Ice Cream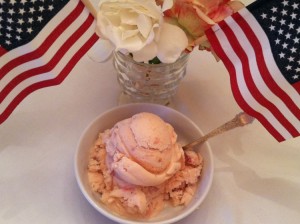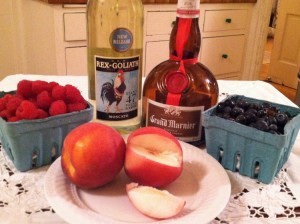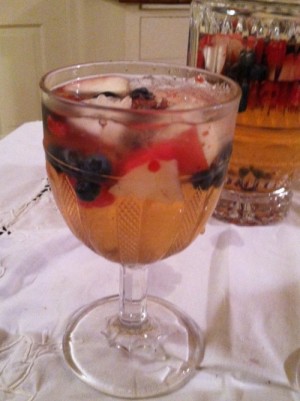 No matter who you are with, where you go, what you eat or how you celebrate, we are hoping it is a day filled with love, joy and abundant living!