Classic Quiche
by Two Chums on February 2, 2012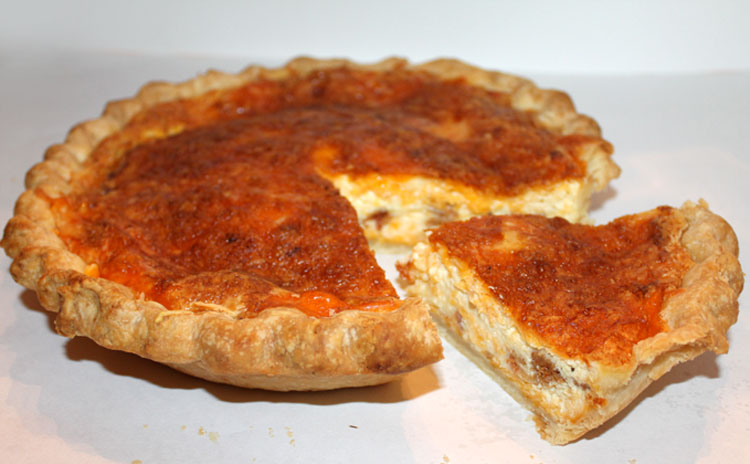 Photo by Natalia Chydzik
 Over the years we have found that one of the most versatile and fun meals, for both host or hostess and guest, is brunch.  And one of our favorite brunch foods is Classic Quiche.  This is another "go to" recipe for the Two Chums because it is easy and delicious and can be made well ahead of time and re-warmed or served at room temperature.
 This recipe is not for those who are on a perpetual diet or who like to modify original recipes to be more low calorie and then proclaim "You'll never taste the difference".  Unless your taste buds have been very seriously altered, we can promise you WILL taste the difference if you skimp on ingredients or use low fat anything.  If you only eat this once in a while, make and eat it the way it is supposed to be made or we would have to say it is better to find another dish to serve.  We sound pretty emphatic about this but once you've tasted it you will know why.   Enjoy!
Crust
2 ½  cups flour
1 teaspoon salt
1 teaspoon sugar
1 cup butter chilled and cut into small pieces
¼ to ½ cup ice water
Place the flour, salt and sugar in the bowl of a food processor and combine for a few seconds.  Add the butter to the flour and process until the mixture resembles coarse meal, no more than about 10 seconds.  With the machine running add the water in a slow steady stream just until the mixture holds together.  Turn the dough onto a work surface and divide in half.  Form each half into a disk and wrap in waxed paper or plastic wrap and refrigerate for 1 hour before using, or up to 2 days.
Roll out dough and line a 9 or 10 inch pie plate pinching the top edge of dough to make a decorative edge.
(This recipe is enough for two pie crusts.  You will only be using one  here so save or freeze the other for another pie.)
Filling
1 lb. thick sliced bacon
1/4 lb. gruyere or Swiss cheese, grated
3/4 lbs. cheddar cheese, grated
4 eggs
1 3/4 cups heavy cream
½ teaspoon salt
½ teaspoon pepper
dash of nutmeg
Cut the bacon into small pieces and fry until crisp.  Drain on paper towels then sprinkle bacon pieces over the bottom of the pie crust.  Alternate gruyere and cheddar cheese until all the cheese is covering the bacon.  Lightly beat the eggs with salt, pepper and nutmeg then add in cream.  Beat again with a wire whisk just to combine.  Pour into crust over cheese.  Bake in a 375 degree oven for about 30 minutes or until the quiche is puffed and lightly browned.  Remove from oven and allow to stand for about 5 minutes before serving.  (This can be made the night before and warmed in a 300 degree oven for about 10 minutes before serving.)
Serves 6-8 generously
Tags:
bacon
,
best
,
brunch
,
cheddar
,
classic
,
cream
,
egg dishes
,
eggs
,
favorite
,
French
,
gruyere
,
pie crust
,
quiche lorraine
,
recipes
,
swiss cheese