Savvy Secrets for Grilling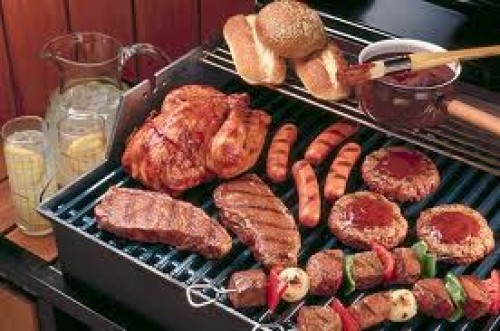 Just 2 more days until people all over the country fire up their grills and barbeques for the country's celebration of Independence Day, July 4th!  Here are some helpful hints, better known by your Two Chums as Savvy Secrets….. for grilling…..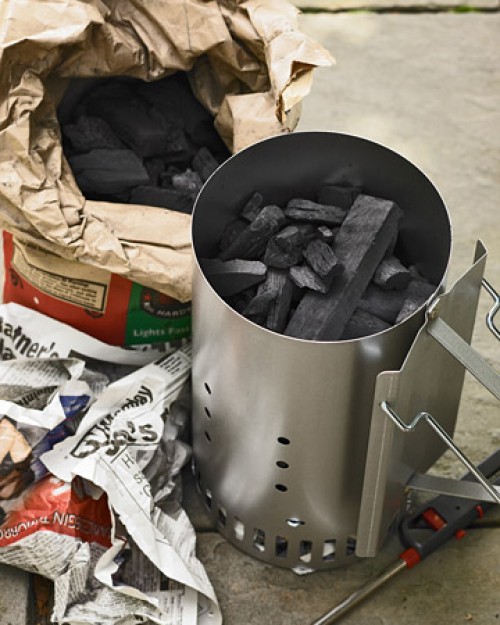 1.   Using a chimney starter is the best way to light a charcoal grill. Never use lighter fluid, as its odor and chemical components can penetrate your food. Place a few sheets of crumpled newspaper inside the bottom of the cylinder and fill to the brim with charcoal.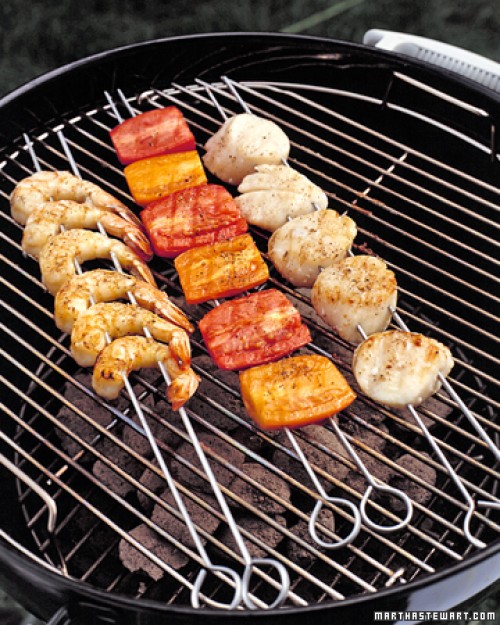 2.   To ensure that kebab ingredients obey when you try to flip them — instead of staying put as the skewer spins — spear them on two skewers. The extra handle also decreases the likelihood of meat or vegetables breaking free and dropping into the coals.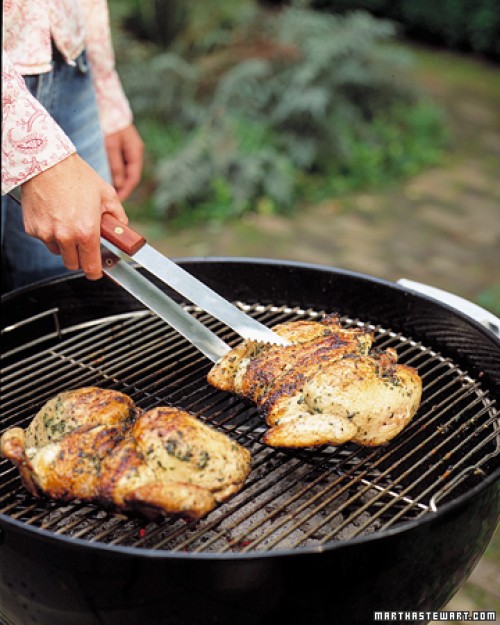 3.   Grilling chicken whole keeps it tender and moist; if you butterfly it, the parts will cook evenly. Use kitchen or poultry shears to cut down either side of backbone, and remove it.   Spread chicken flat, skin-side up;  tuck wings behind shoulders.   Make a small slit in skin with knife at tip of breast near thigh, insert end of drumstick, and repeat.  If desired, rub with lemon and herbs.  Grill chicken over medium heat, turning occasionally, until juices run clear when breast is poked with a fork, 30 to 45 minutes, depending on the size of the bird.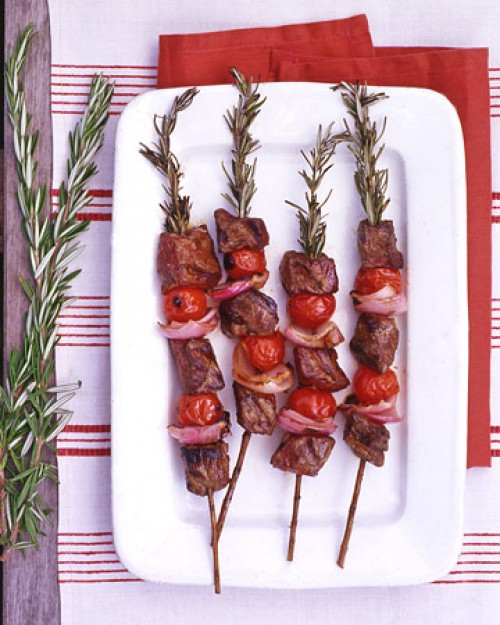 4.   With its sturdy stalk, rosemary makes a great skewer, infusing grilled food with its garden-fresh flavor.   Soak stalks for a half hour before adding meat, fish, or vegetables. You may need to poke through the food first with a metal skewer.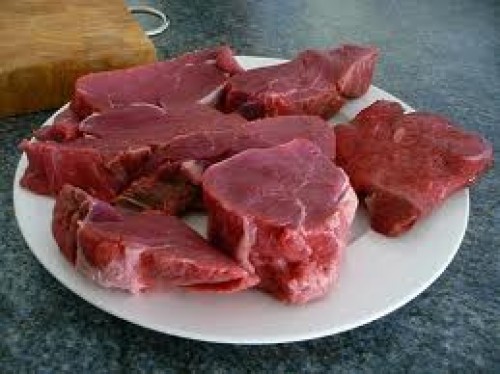 5.   Bring steaks and pork chops to room temperature before grilling them. Keep fish and chicken refrigerated.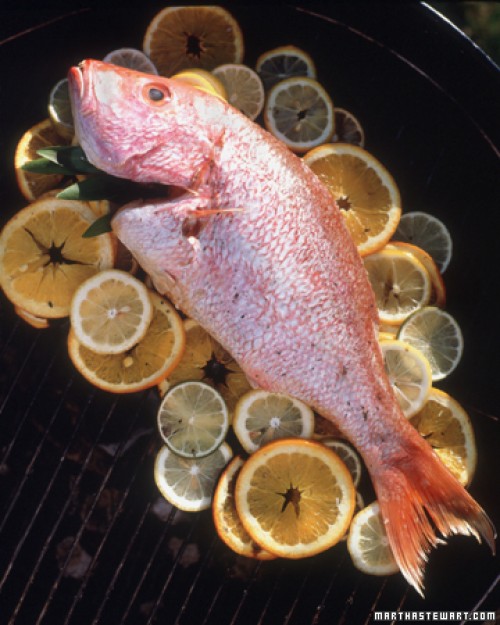 6.   Strewing citrus slices over a grill keeps fish from sticking to the rack and infuses it with flavor at the same time.  Slice oranges, lemons, and limes about 1/4 inch thick, then spread the fruit generously over a hot grill.   Place the whole fish, skin on, on top of the citrus.   Cooking times will vary according to the thickness of the fish.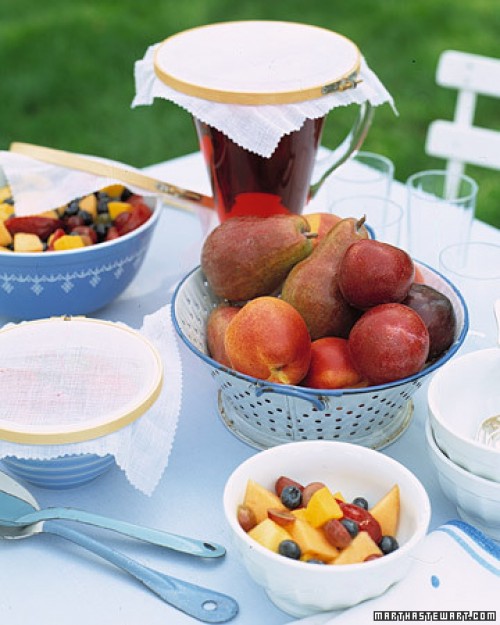 7.   Turn away picnic table pests with inexpensive sewing supplies: embroidery hoops and muslin.  Buy hoops that are slightly larger than the rims of your pitchers and serving bowls.  With pinking shears, cut cloth squares two to three inches wider than each hoop.  Position a piece of fabric in each hoop to create handy covers.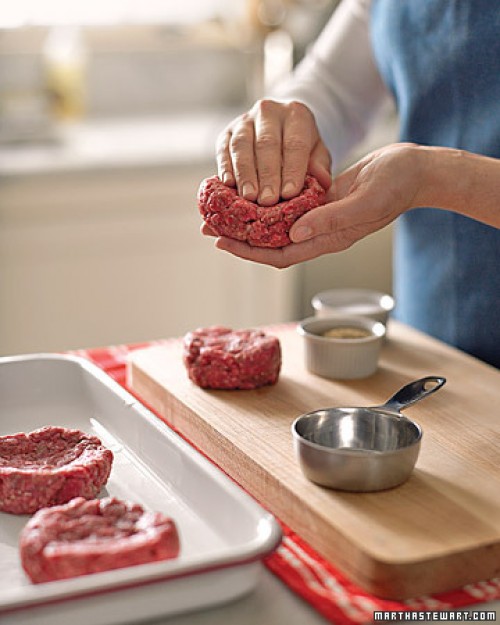 8.   One of the secrets to perfectly grilled hamburgers is making each patty symmetrical. Using a measuring cup, shape meat into 1-inch-thick rounds. Tap back of cup to remove;  then indent patties with your hand to prevent doming (which causes condiments to slip).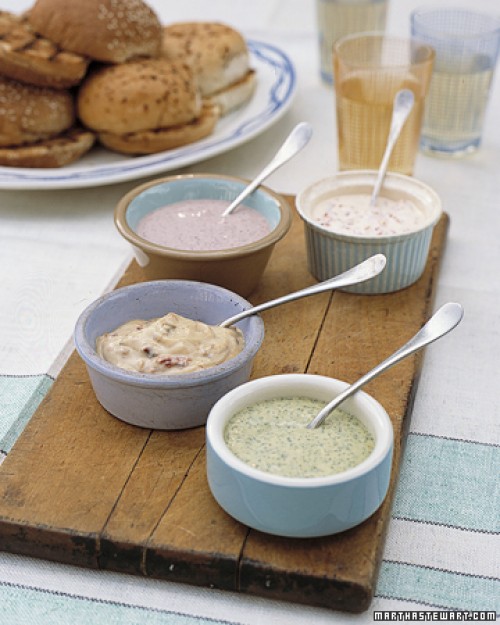 9.   Beef up your condiment offerings for burgers with these four easy blends.  Start each with 1 cup mayonnaise and 1/4 teaspoon salt.  Next add peppers (1/4 cup, finely chopped), Kalamata-olive puree (3 tablespoons), sun-dried tomatoes in oil (1/4 cup, drained and finely chopped), or pesto (3 tablespoons).   Refrigerate in an airtight container for up to 5 days.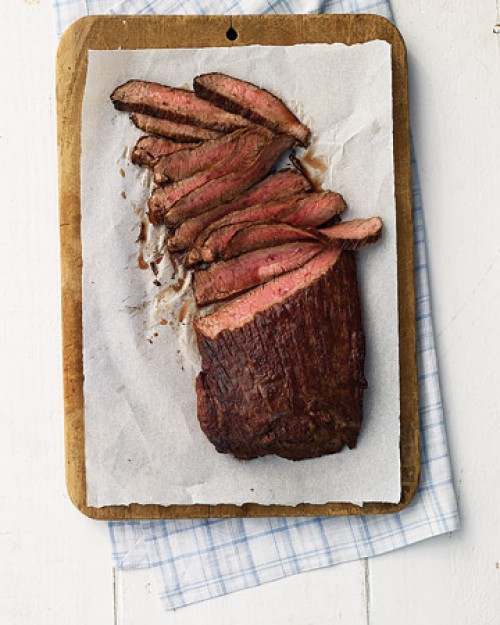 10.    Let steaks, chops, and chicken rest for 10 minutes before slicing and serving. This allows all the juices that have come to the surface during cooking to soak back into the meat so your meat is juicy and flavorful instead of dry.  Simply cover the meat with a piece of foil to help keep it warm until you are ready to slice it.
However you celebrate the 4th of July and whatever you do on the grill this week, remember to do it with lots of love and joy.  When you do things that way, you will always have a more abundant life.