Deviled Eggs and Hot Artichoke Dip
As the night for the Academy Awards approaches, we promised to give you some ideas for your Oscar party.  Today we want to share with you two of our favorite recipes, Deviled Eggs and Hot Artichoke Dip.
Deviled eggs are one of those foods that conjures up happy childhood memories of family gatherings.  They're a simple food that you eat with your fingers at picnics or barbeques or maybe on Easter.  So, years ago, as we prepared for a cocktail party, it seemed a stretch to serve such an "ordinary" item on a buffet that wanted to be…….not stuffy……but maybe a little bit elegant.  Still we needed one more item to round out the menu and fill a gap in the buffet table, and what we had in abundance were eggs, so why not try them, along with the other dishes being prepared and just see how they were received?
This was the thought and conversation as we prepared for our party.  Worst case senario, we thought, no one eats them.  Best case, everyone eats them.  We could not possibly have guessed what a hit these simple eggs would turn out to be.  Simple yes, but simply delicious!  Surprise everyone at your next buffet and give them a try.  You……and everyone else…..will be glad you did.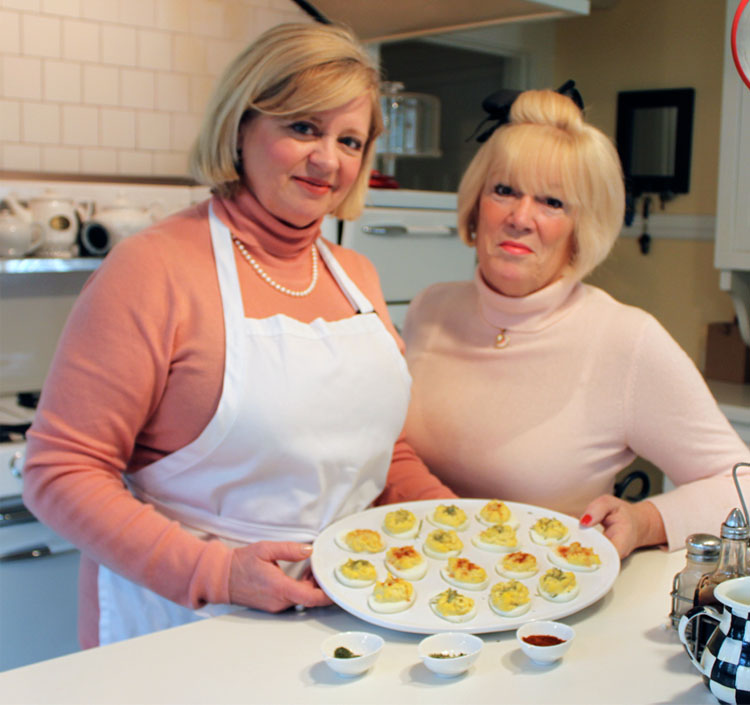 (Photos by Natalia Chydzik)
Deviled Eggs
12 eggs
½ cup Best Foods mayonnaise
3 Tablespoons Dijon mustard
¼ teaspoon salt
Pinch of pepper
Dill weed
Dried tarragon
Paprika
Place eggs in a pan and cover with cold water.  Bring water to a rolling boil.  Once the water has boiled, turn off the flame and place a lid on the pan.  Allow eggs to sit in hot water for 10 minutes.  Drain and run cold water over eggs until eggs have cooled.  Peel eggs.  Cut eggs in half lengthwise.  While keeping whites in tact, remove yolks and put them in a bowl.  Crumble yolks with a fork.  Add mayonnaise, mustard, salt and pepper.  Mix well.  Place whites on a platter.  Scoop yolk mixture into the hole in whites.  Sprinkle with dill or tarragon or paprika.  We like to alternate these toppings to have a variety of choices and colors on the plate.
We all need to have one of those "go to" recipes in our repertoire that's easy, delicious and quick.  For us, that special recipe would be Artichoke Dip.  We NEVER serve this without someone asking for the recipe or commenting on how delicious it is.  It works equally well at casual barbeques, elegant cocktail parties, and as a snack when unexpected guests drop in.  It is so simple we hesitate to even really call it a recipe.  It is 3 basic ingredients, takes about 15-20 minutes, from start to ready to serve, and anyone can whip this yummy appetizer up.  Try it once and then make sure you keep a can of artichoke hearts in your cupboard and some mayonnaise and parmesan cheese in the refrigerator and you will be ready to put smiles on people's faces at any event, any time.
Bon Appétit!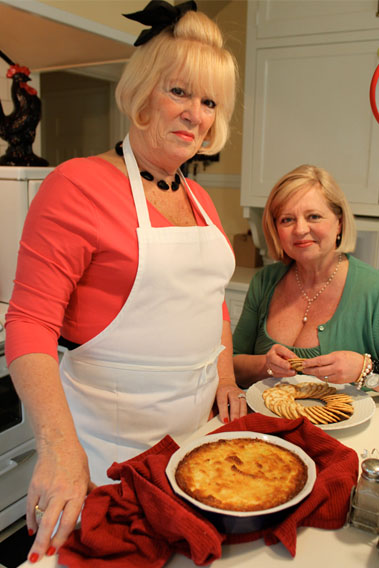 Artichoke Dip
1 can artichoke hearts packed in water
1 cup Best Foods mayonnaise
1 cup parmesan cheese
Roughly chop artichoke hearts and stir together with mayonnaise and parmesan cheese.  Spread mixture into a shallow baking dish and bake in a preheated 400 degree oven for about 15 minutes or until lightly browned and bubbly.  Serve with crackers or thinly sliced French bread baguettes.
We have served both of these dishes at many a party and family gathering and always to the delight of our guests.  Whether you decide to serve these at your upcoming Oscar party, or at your next family gathering, we think you and your guests will be delighted too.