The Ultimate All American Comfort Food
Where ever you live, chances are, fried chicken tops the list of your favorite All American Comfort Foods…Who doesn't love fried chicken….I know I do!  Sometime back, fried chicken  and how to prepare it, was the subject of our Two Chums post.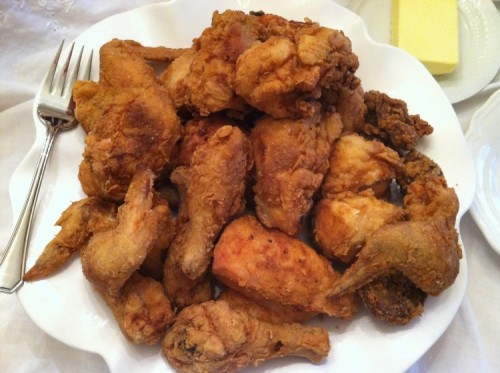 I grew up on this and it is still my favorite comfort food….and my children's too.  But in recent years chicken strips and chicken nuggets have become extremely popular, being offered at nearly every family restaurant in the country.  Now basically the technique for how you prepare fried chicken strips and nuggets is the same as the way you prepare whole pieces of chicken.  So I began to wonder why these strips and nuggets are so popular with young and old alike.  As I thought about it, I decided it had to be more than just the idea that you were eating chicken without bones.  If that were the case, we would see fried whole boneless breasts and thighs being offered on restaurant menus.  But that just isn't the case.  So what is it about the fried chicken strip or nugget we like so much?
I decided to fry some and see if the answer would come to me.  And guess what?  I think I did come up with something after all.  At least I have an idea why we may like these smaller pieces of chicken.  It is the ratio of crust to chicken.  We all love the crunchy, crispy crust of fried chicken and the moist juicy meat.  By making the pieces smaller the ratio of crust to meat is improved.
I'm not ready to give up frying and eating whole pieces of chicken for good but I'm pretty sure we will be enjoying chicken strips more often around our table.  You might want to give them a try as well….they are the All American Comfort Food


Fried Chicken Strips or Nuggets
The method for making this chicken is basically the same as it is for our original fried chicken.  The recipe and instructions for making the chicken is here.  A chicken dinner is pretty simple to make and simply delcious to eat:)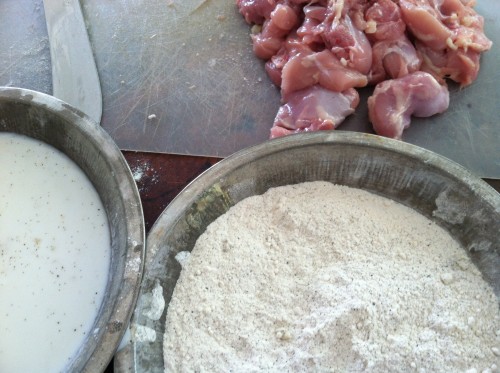 Cut boneless skinless chicken breasts into strips or chunks (nuggets) or you can use boneless thighs to make the nuggets.  Prepare the flour and milk for the chicken crust as described in the original post on fried chicken.
Start the chicken on a higher heat and lower it to a medium flame as it browns.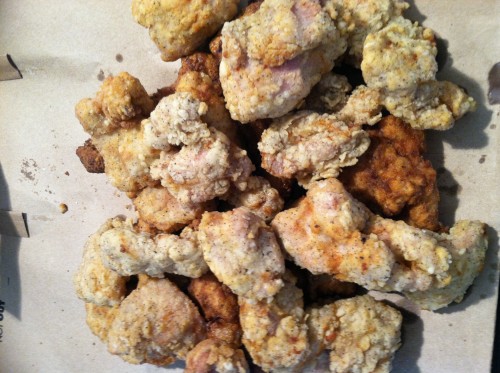 Drain chicken on paper bags to absorb the excess oil.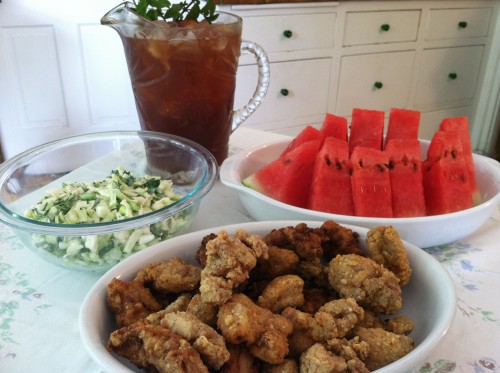 Serve chicken with cole slaw,  chilled watermelon and sweet iced tea.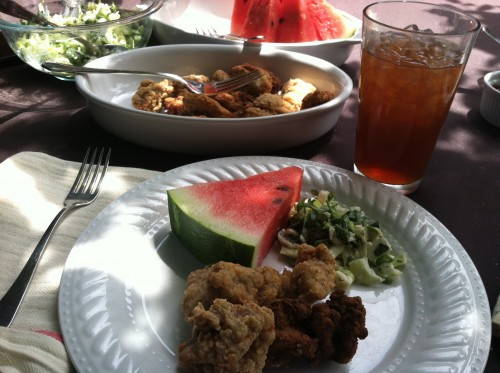 And there you have it…a chicken dinner (or lunch)…The Ultimate All American Comfort Food….Enjoy y'all!