The Cookie Jar -"Devil" Cookies
by Two Chums on June 29, 2013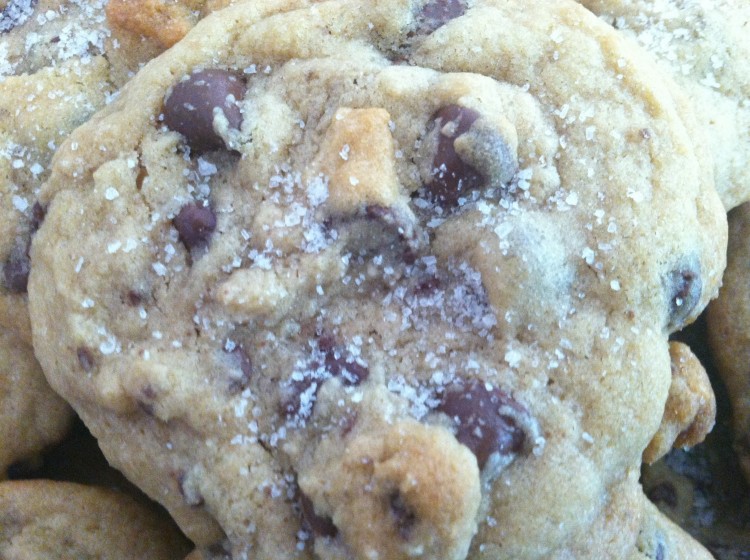 How good is this cookie?  One bite is all you will need to know….
If you've been following Two Chums for long you may recall that this is not the first post on Chocolate Chip Cookies we've done. Last September we gave you a recipe we are very fond of that had a couple of surprising ingredient changes from the cookie recipe you are probably most familiar with using.  We love that cookie, but  now we have another recipe for you that we really love too:)  Typically we think of Apple Pie as being the All American dessert, but it is hard to get more All American than a good chocolate chip cookie.  With the 4th of July next week you may want to add these to your celebration.
If you have a favorite chocolate chip cookie recipe, or one with an unusual ingredient, we would love to hear about it.
Oh the love, the joy and the abundance a great cookie can bring


One of our chums, Stephanie, makes these all the time and her daughter, Kami, refers to them as "devil" cookies because she can't stop eating them.  We tried them.  They were delicious, soft and chewy but not heavy.  But they weren't quite as sweet as most cookies so we added a bit (truly just a bit) more sugar to the original recipe, used salted rather than unsalted butter, and finished the warm from the oven baked cookies with a fine sprinkling of sea salt.  The sea salt surprisingly, enhances the flavor of the cookie and balances the sweetness.
After tweaking the recipe just a bit, I found that they are in fact "devil" cookies.  After the fourth one (and they weren't even cool yet) I had to leave the room to put some distance between me and the cookie plate.  CAUTION – Do Not make these cookies unless you are prepared to make them again and again and again….they really are THAT GOOD!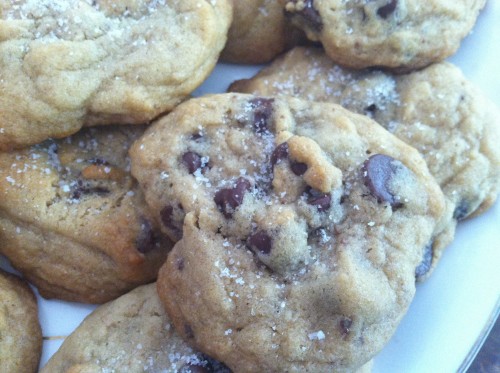 "Devil"  Chocolate Chip Cookies
3/4 c. salted butter, softened
3/4 c. brown sugar
1/3 c. granulated sugar
1 egg
2 tsp. vanilla extract
2 c. all-purpose flour
2 tsp. cornstarch*
1 tsp. baking soda
1/2 tsp. salt
1 c. bittersweet chocolate chips
sea salt for sprinkling
1.  Preheat the oven to 350 degrees F.
2.  In the bowl of a stand mixer fitted with a paddle attachment, cream together butter and sugars until fluffy and light in color. Add vanilla and blend in.
3.  Mix in flour, cornstarch*, baking soda and salt. At this point the mixture will look very grainy like the crumb topping for coffee cake.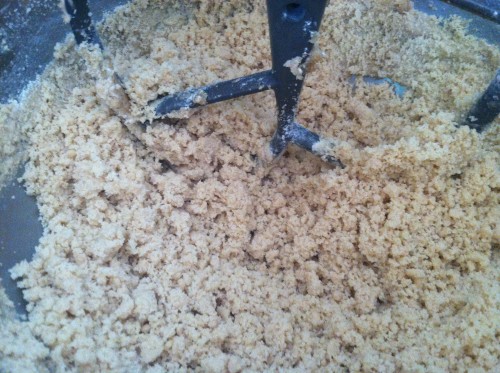 4. Add egg to crumb mixture and the dough will come together and look like regular cookie dough.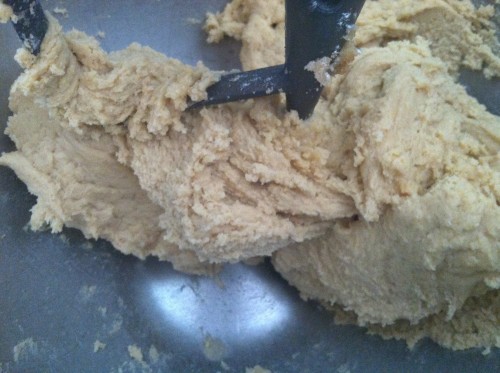 5.  Stir in chocolate chips.  Using a teaspoon, drop dough onto a prepared baking sheet.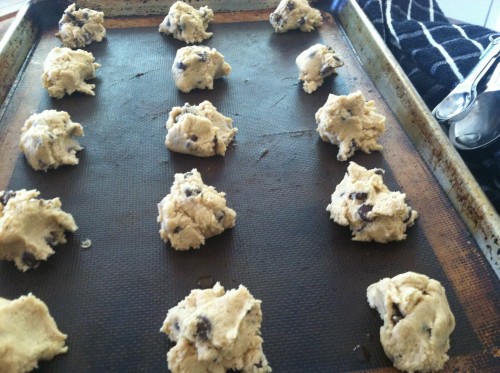 Bake for 8-10 minutes, until barely golden brown around the edges.  (The tops will not brown, but do NOT cook longer than ten minutes.)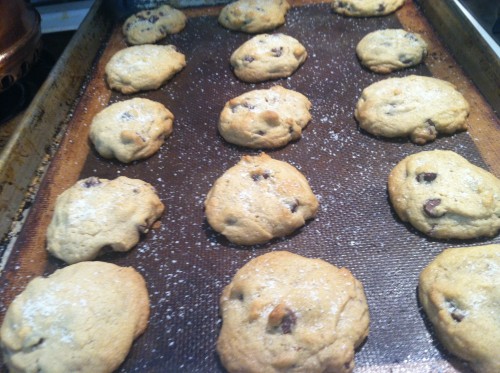 6.  As soon as you remove the cookies from the oven, sprinkle them with a few grains of sea salt.  Let cool, on the cookie sheet that you place on top of a wire rack for five minutes.  Remove from baking sheet and let cool completely.  Makes approximately
2 1/2 dozen of some of the BEST cookies you'll ever eat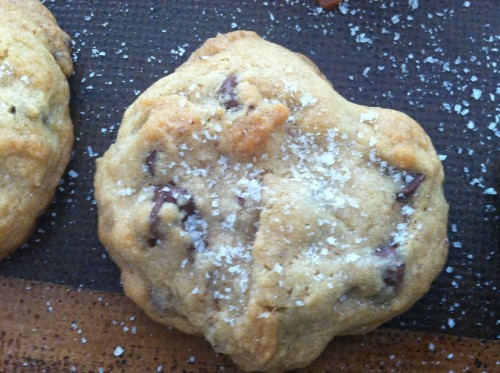 * Adding cornstarch to all purpose flour makes it more like cake flour.  If you don't have any cornstarch when you are making these, you could try substituting 1 cup + 2 teaspoons of cake flour instead of the regular flour and cornstarch.