Double Duty Waffles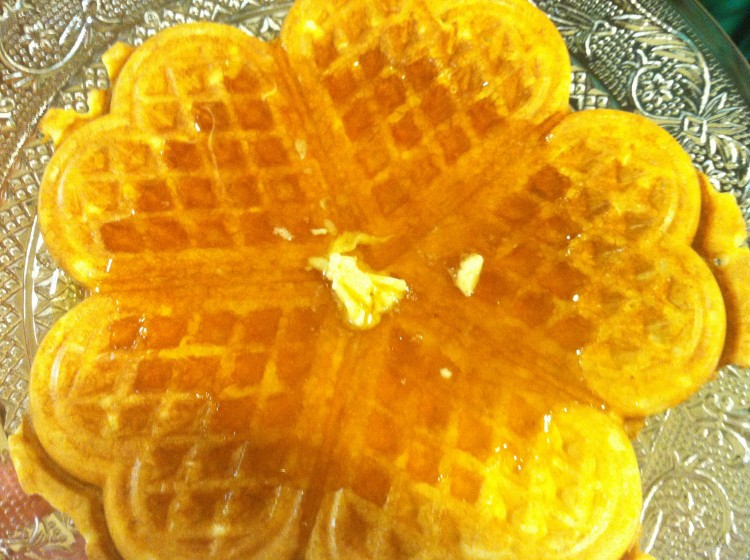 Waffles are always a welcome sight on any morning, but especially on school or work day mornings.  They don't have to be time consuming or a hassle. And they can do "double duty " if you use them to make lunch to! We'll show you how

On a school or work day, making breakfast that isn't cold cereal, and making lunches too, can turn into a stresser for anyone.  We have a plan that will alleviate some hassle, at least on some days, and leave you feeling good about what you're feeding your children or eating yourself.
You can mix up all the dry ingredients ahead of time and keep that mixture in a glass covered or Tupperware container.  Then if you use your blender to make your waffle batter it will be done in a snap!   Of course you can buy waffle mixes or use Bisquick but if you make the mix yourself, not only will you save some money, but even more importantly, you can control what goes into it.  I personally have a policy that I won't buy anything that contains a list of ingredients I can't read the names of or pronounce.  If you feel the same, this is an easy and time saving solution.
The added benefit of making these waffles is that you can use any left over waffles in two ways:
1. You can undercook some waffles with any left over batter and then freeze them.  That way you can pop them in the toaster to finish cooking them and heat them on a morning whan you are racing to get out the door.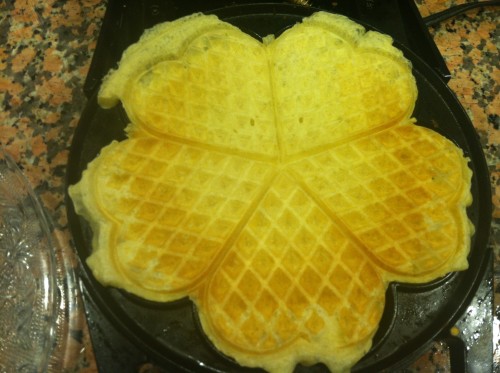 2. Cook all the waffle batter and use the waffles to make sandwiches  the same morning or save them to use the following day for either breakfast or kids' lunches.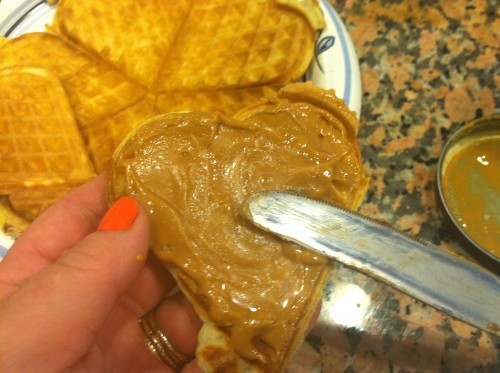 Yummy Waffles
Mix:
2 cups flour
1/2 teaspoon sea salt
1 rounded Tablespoon of baking powder
2 Tablespoons sugar (I love the evaporated cane juice they sell at Trader Joes but use whatever you like best)
Mix all this together well and keep in a sealed container, if you are wanting to keep some on hand to use as we described. I suggest that you make it up in batches (as many as you want) of this size and then combine it all together.  (I can't explain why it isn't good to just double the amounts as you are making it but for some reason it works better to make it in smaller batches and mix those together.)
To 2 cups of this waffle mix you will need:
2 cups of milk
3 eggs
1/2 cup of melted butter or oil (I prefer coconut oil)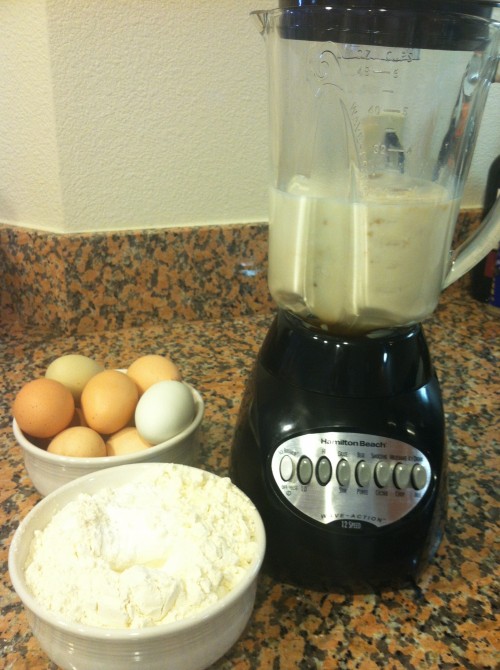 Put the wet ingredients into your blender and blend just to mix for a couple seconds.  Add in 2 cups of the waffle mix and blend just until all the dry ingredients are mixed with the wet.  Don't leave the blender running for a long time as this will make the waffles tough.
Lightly oil your electric waffle iron, try the Trader Joes Coconut Oil Spray, it's fantastic, just coconut oil without any unhealthy stuff in it.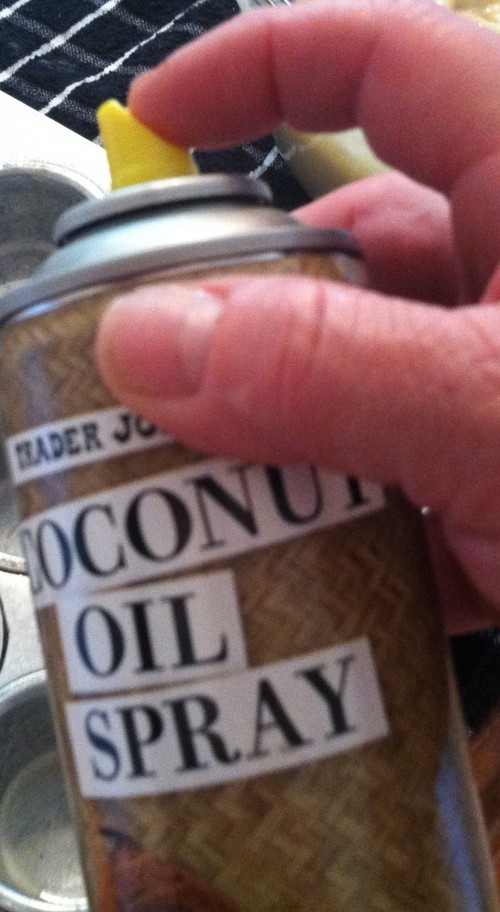 Pour enough batter to ALMOST cover the surface of the waffle iron.  Do Not overfill the waffle iron as the batter will expamd and run out the sides if you use too much.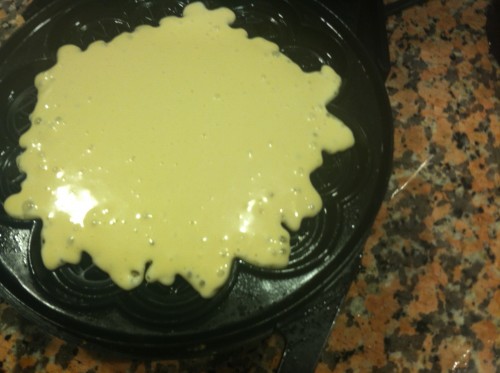 Close the top of the waffle maker and wait for the magic!  In about 3-4 minutes you will have a perfectly delicious waffle.
Top with butter and REAL maple syrup and maybe even a touch of whipped cream for fun or some Nutella for even more fun!  Just right for a busy morning breakfast, a leisurely weekend brunch, or to use to make surprise sandwiches for your kids.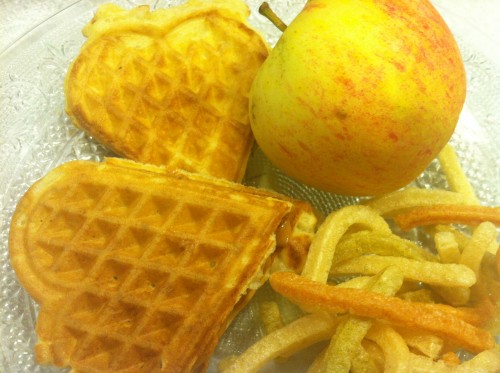 Simply separate the waffle sections and use those to make mini sandwiches for your kids.  My waffle maker happens to be a sort of flower made up of heart shapes.


There are many kinds and shapes, they are not expensive, and you can buy them anywhere that sells small home appliances.  If you don't own one it is a great investment.
My grandson Jeremy loves to eat 2 whole big waffles as a sandwich with peanut butter and jelly,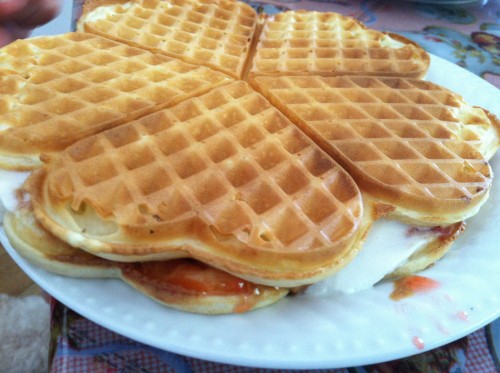 but you could also use egg salad, turkey or ham, or even cream cheese and raisins….the possibilities are limited only by your imagination!  Just another way to add to lives of love, joy and abundance