A Miracle That's All In The Method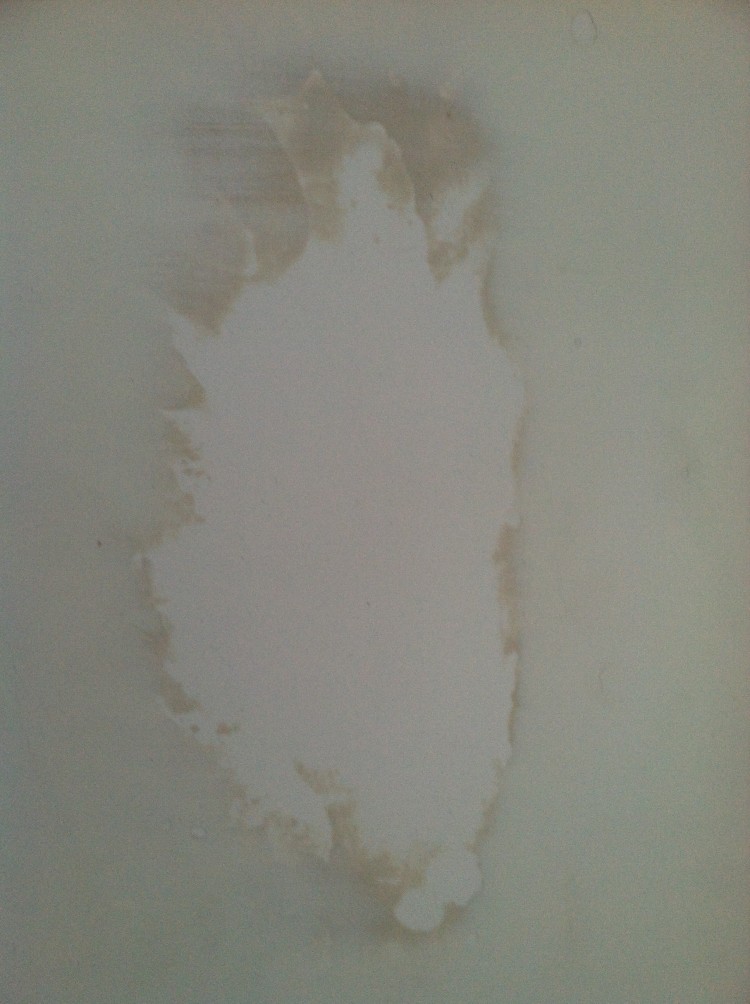 This week we are looking at things that can be transformed with paint….walls, furniture, bathtubs….wait…bathtubs?  Well the bathtubs aren't exactly painted in the traditional sense, but they can be transformed with a technique that looks like painting and gives the appearance of a whole new tub!
The technique is called Miracle Method and believe me what it does for tubs and tile is nothing short of a miracle!  I happen to live in a neighborhood of older homes, mostly built in the 1920′s and 30′s.  I love older homes.  I love the character and the mouldings, the craftsmanship, and the attention to detail that is sometimes overlooked in newer homes.  I friend of mine once commented to another mutual friend that she didn't think I would really like a house unless "Benjamin Franklin had danced on the floors."  That is a bit overstated but it is true that I appreciate many of the things an older home has to offer.  However, if there is one thing that is often a disappointment in a home built in the 1920′s or 30′s it is the bathrooms.  Often the tile work has begun to dull and crack in places and even where the finish hasn't yet become dull or the odd tile cracked, the colors of tile that were in vogue back then are difficult to work with and sometimes odd by today's standards.  The tubs are usually large which is nice, but the porcelain has become worn and dulled with age and sometimes has discolored all together.
That was the case in one of our bathrooms in particular.  There is a wonderfully big tub that allows you to totally stretch out and relax but the finish had become very worn.  Add to that, another situation which arose, there had been a clogged pipe a few months back and it was necessary to use a drain cleaner to clear the pipes so the water would drain properly from the tub.  I'm not sure how it happened, but apparently, some of the drain cleaner must have splashed on the porcelain or come back up the drain when we ran the hot water to flush it out, and then sat there in the tub just long enough to wear away some of the finish on the bottom of the tub.  It didn't feel rough but it looked terrible and nothing would remove the discoloration.  We tried every kind of cleaner you've ever heard of and some I know you have never heard of before, but nothing helped.  In fact the spots on the center of the bottom, and the back of the tub, just seemed to gradually be getting worse and worse.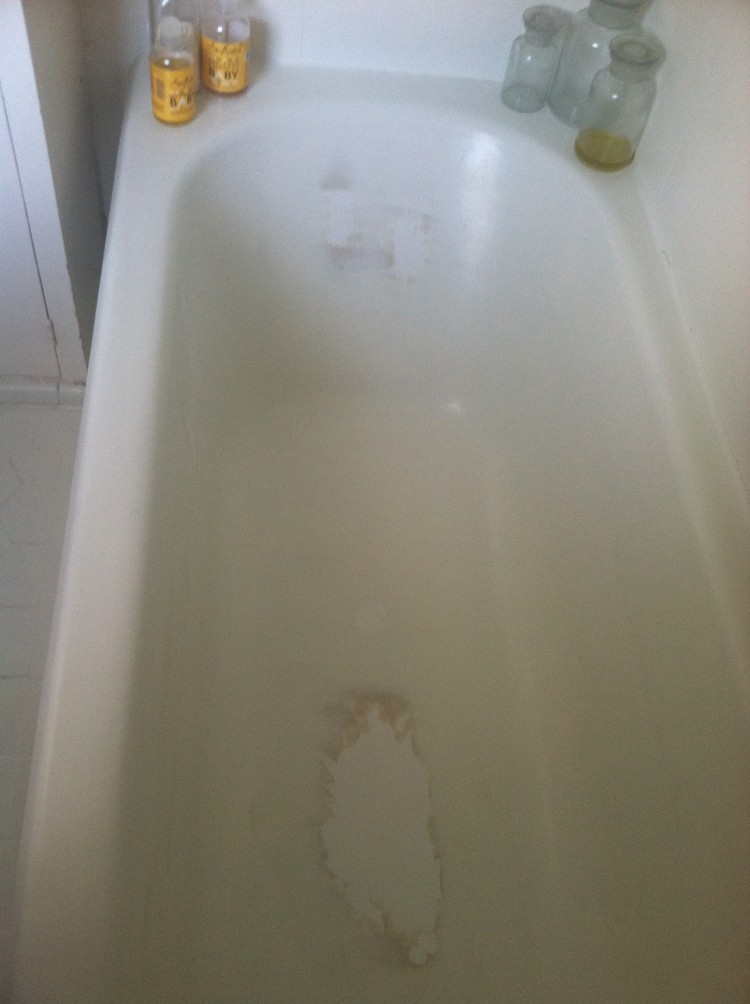 The cost of ripping out all the tile and getting a new tub was beyond our reach at the moment.  So I decided it was time to call Frank Clark from  Miracle Method  to see what he could do.
He came back with a price of $545.  While what they quoted was not cheap, it was much less than the cost of replacing the tub. So we decided to have them fix the tub and resurface the tile on the floor in another bathroom while they were here.  I happen to like white bathrooms because to me they always look clean so that is the color I went with but they would have done any color I wanted if having a colored tile was my choice.
They came in and prepped everything carefully.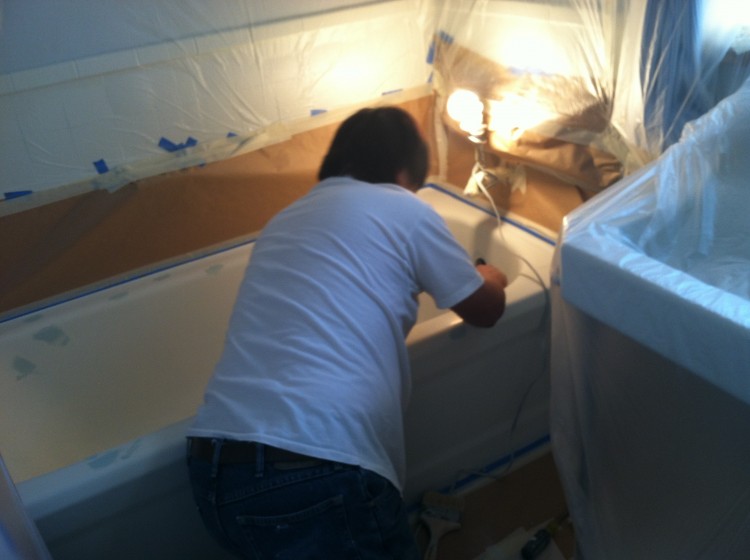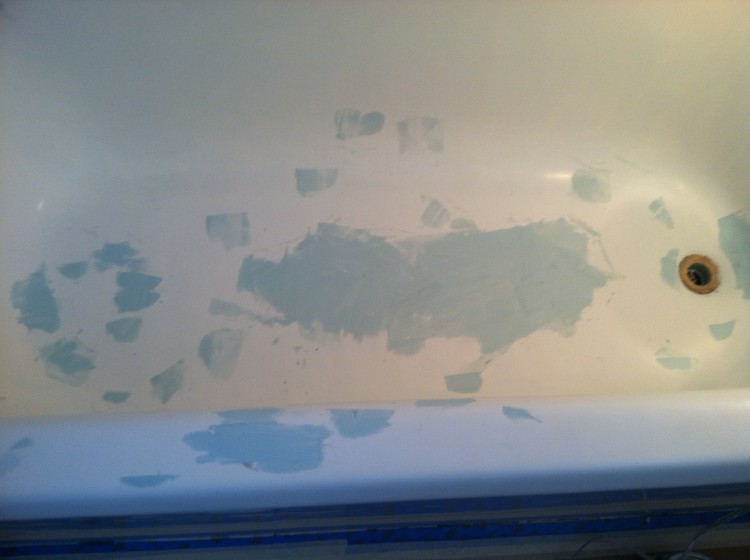 And in one day it looked as if I had a new tile floor,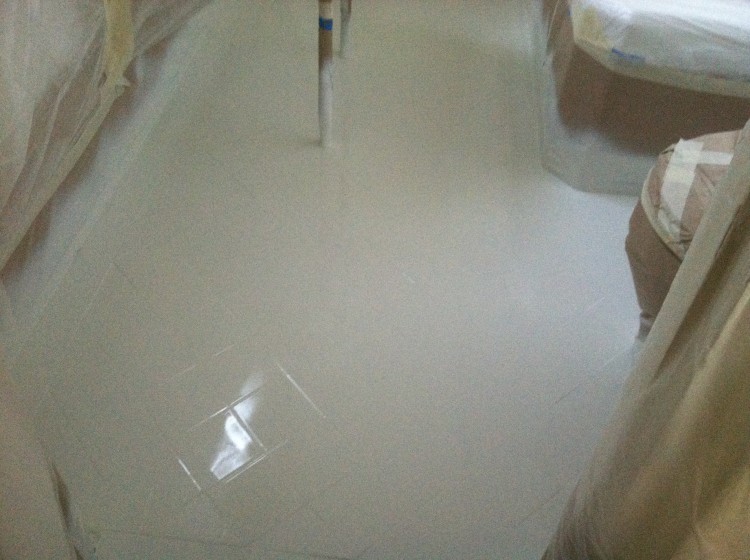 and a new tub!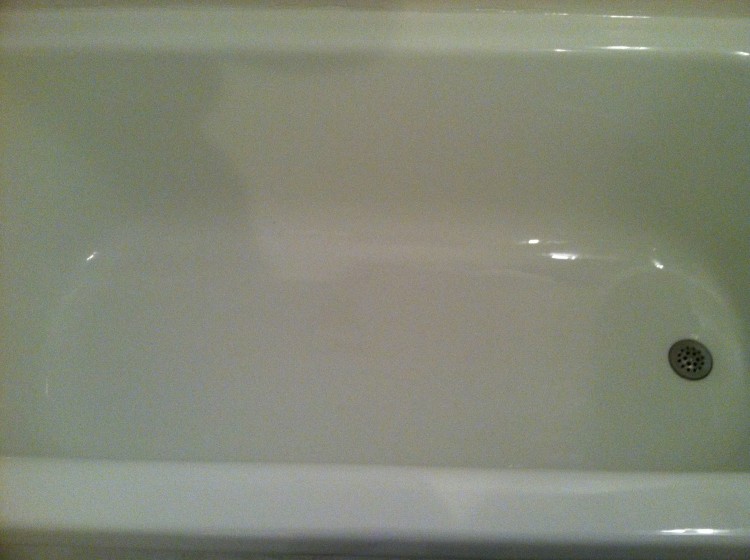 I am not one for cheap or quick fixes as a rule.  I like things to be done well and right, but in this case the Miracle Method turned out to be quick and certainly much more affordable than the alternative and I have to tell you this looks pretty darn good.  I took a bath in my "new" tub last night  and there was a celebration of joy ….I love it!  And it will most certainly add to the abundant living (and bathing) that goes on in this house


In the Los Angeles area you can contact Frank Clark at (818) 957-2177 or find a Miracle Method representative in your area by clicking on the name Miracle Method above and it will link you to their website.