Weekend Delight – Carrot Cake Pancakes
No you aren't seeing double.  Due to a problem with the server, many of you, our chums who subscribe to Two Chums, were unable to open the e-mail containing the post yesterday.  So we are resending it out to you today.  Happy Saturday  and Bon Appetit !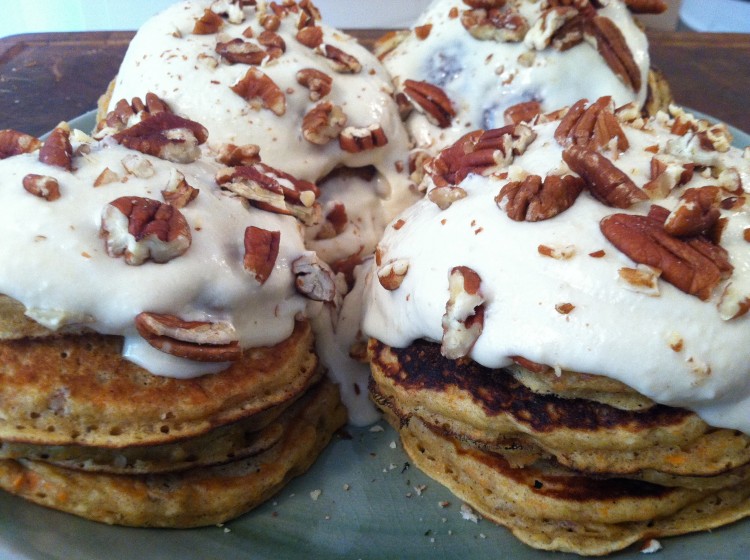 All across this great land, as the weekend approaches, so does brunch!  What better way to celebrate the weekend than with breakfast and dessert combined? !!!If you like pancakes and you like carrot cake you are about to be delighted.  These yummy pancakes are the perfect brunch food for a lazy Saturday or late morning Sunday meal.  They are easy to make and oh soooo satisfying!  They combine a basic carrot cake recipe and pancake recipe and then are served with a maple, cream cheese and butter topping as a nod to the classic frosting you would find on any good carrot cake.  Try them this weekend.  You won't be disappointed


Carrot Cake Pancakes with Maple Cream Cheese Topping
1 1/2 cups all-purpose flour
¼ cup sugar
1 teaspoon baking powder
1/2 teaspoon cinnamon*
1/4 teaspoon nutmeg*
1/8 teaspoon cloves*
1/8 teaspoon allspice*
1/2 teaspoon baking soda
1/2 teaspoon salt
2 eggs
1 1/2 cups buttermilk
1/4 cup melted butter
1 teaspoon vanilla
1 cup carrots, finely grated and patted dry with paper towels
2 tablespoons candied ginger chopped very fine
3/4 cup grated or shredded coconut
1/4 cup chopped pecans or walnuts
Mix dry ingredients together (* in lieu of spices you can use 1 teaspoon of pumpkin pie spice).  Add wet ingredients to a blender and mix quickly.  Add flour mixture and blend jus to combine.  Add carrots, ginger, coconut and pecans and blend for only 3-4 seconds just to get ingredients mixed.  Put batter in the refrigerator and allow to "rest" for 30 minutes or up to several hours.
Spray griddle with oil (I prefer the coconut oil baking spray from Trader Joes).  Ladle out batter and watch for bubbles to form on the surface of the pancake, about 2-3 minutes.  Carefully lift the edge of a pancake to check.  When pancakes are lightly browned on first side, flip them and allow them to cook for another 2 minutes.  Remove from griddle and keep warm in a 200 degree oven on serving platter.
Maple Cream Cheese Topping
1/2 cup pure maple syrup
8 oz. cream cheese at room temperature
4 Tablespoons butter
1/2 teaspoon vanilla
Beat all ingredients for topping together with  electric mixer.  Can be made ahead and stored in the refrigerator but be sure and allow this to come to room temperature before spreading on the warm pancakes.
When all the pancakes are finished, add Maple Cream Cheese Topping, sprinkle with more pecans and pass some additional warmed mape syrup on the side.  Serve with thick cut bacon and YUM!! Brunch is served