Weekend Brunch – Easy Huevos Rancheros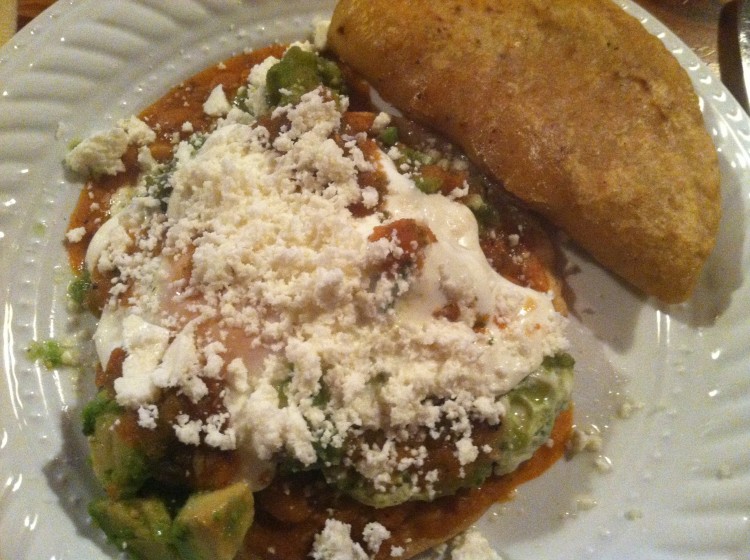 Sometimes we think foods that have a foreign name or that we aren't sure how to pronounce, must certainly be difficult to make.  Not this one!These are perfect for Saturday or Sunday brunch or even for a quick evening meal when you're in the mood for something yummy and different and VERY EASY to make.  Add some Mexican coffee or a margarita, and maybe some fresh homemade tortillas (they are easier than you think to make) and you are living very abundantly my friend


Huevos Rancheros
Corn tortillas
Olive oil
Beans (if you happen to have some left over after you have made a pot of beans, great!  If not, use a can of good quality pinto beans)
Salsa (mild, medium or spicy depending on how you like it)
2 eggs
1 avocado – diced
Queso Fresco or Jack cheese
Sour cream
Cilantro
Cook each tortilla in a couple of tablespoons of oil in the bottom of a hot skillet.  Leave long enough to just begin to crisp.  Remove and drain.  Repeat for as many tortillas as you need figuring one per serving.
In a separate pan add some oil, about 2 tablespoons of salsa and some beans.  Lightly mash the beans.  Keep warm.
In the skillet where you cooked the tortillas, add about 1/4 of salsa to the skillet and allow it to get hot.  Break 2 eggs into salsa and cover the pan allowing the eggs to cook in salsa just until done.  They are best when the yolks are still soft but not too runny, so about 2-3 minutes.
Place warm tortilla on a serving plate.  Top the tortilla with enough beans to cover it.  Spoon the eggs and salsa on top of the beans then add some diced avocado, sour cream, some crumbled queso fresco or grated jack cheese and top with cilantro leaves.  Serve immediately and drink in all the love, joy and abundance life has to offer