The Favor of a Reply is Requested
by Two Chums on April 2, 2012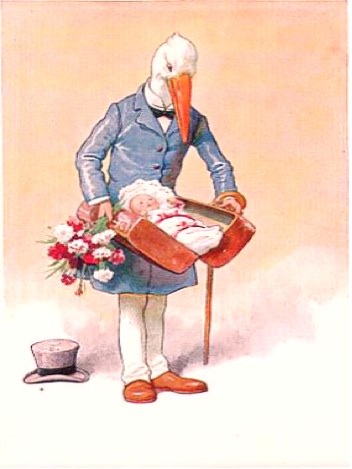 "Let's have a baby shower!  Where shall we start?"
Well, we Two Chums always start with deciding on a theme.  We love to have a theme to follow as we are then able to tailor the whole party around that theme.   Today we are going to speak specifically about baby showers, though what we are talking about would apply to any shower.  Growing up in England, my introduction to showers was being invited to one an American friend of my Mother's gave.  I had a wonderful time and loved the concept although in England (and in fact in most parts of the world) showers are unheard of except the ones that get you wet outside, of which there are many!
Start by picking your theme.  Later in the week, we will share some themes with you and party favors to go with those themes.
So, once we have determined the theme, we must get a list from our guest of honor, the mom-to-be.  As soon as that guest list is completed, you are able to address the invitations.  We know that a lot of people like to use labels for invitations but there is nothing like a hand written envelope ~ in fact, we feel pretty strongly that the envelope should be hand written!
Now it is time to get busy on the  invitation.  We very often make these ourselves – so easy and, oh, such fun!   Target has some great invitation stationery for sale and easy, step by step instructions as to how to print them.  Michaels, the craft store, has plain invitations that are easy to put into your computer and print upon.
The invitation can be worded in so many different ways.  You might want to make up a poem:
Janie is having a new baby girl
We do hope you'll join us, please give it a whirl
There'll be tea and crumpets and strawberry jam
Cucumber sandwiches, biscuits and flan.
On the 19th of January, we'll expect you, it's clear
You are wanted and needed to make the time dear
Please let us know if in fact you can come
To celebrate, with joy, love for this new Mom.
Saturday, 19 January, 2000
1234 Jones Street
Newtown
Hosted with love by
The Two Chums
Rsvp:  000-999-8888
Or use more conventional wording:
Janie Smith is having a baby girl!
Please join us to shower her
with love and joy
at a tea
Saturday, January 19, 2000
3 pm
1234 Jones Street
Newtown
Given with love by
The Two Chums
Rsvp:  000-999-8888
Just tailor it to your occasion.  Oh, and by the way, though people do it all the time, proper etiquette dictates that it is a social "no no" to put where your guest of honor is registered directly onto the invitation.  On the other hand, people do want to know, so it should be printed on a separate piece of paper and popped into the envelope.
Really, really important is the favor of a reply!  When you receive an invitation, be quick to reply.  R.s.v.p. is French – répondez s'il vous plaît – which means, reply, if you please.  Some people prefer to use the phrase "Regrets only".  We use the R.s.v.p. because with that, everyone is expected to reply and, as the hostess, if you do not hear from someone, you can call up to make sure the invitation was received.  With the "regrets only", you have no way of knowing if everyone received the invitation, as, if  you do not hear from someone, you assume that they were coming.  It is important for your hostess to know whether you are able to be there, especially if she is seating people.  Oh, on that subject, we know that a lot of people think it is "stuffy" to seat people but we feel it is really wonderful to seat people ~ it is the gracious way to do it.  It tells your guests that you are expecting them and have made a special effort for them.  Also, it is really helpful for your guests as they know where to sit and if you have guests who do not know a lot of the other guests, they quickly become a part of the mix if there is a special seat waiting for them.
Now that you have your theme, you have addressed your envelopes, you know where your guest of honor is registered, and your invitations are made, you need to decide on a menu.  Later on this week, we are going to have some yummy menus to share with you.
Until then, decide on your theme and get started on your invitation!