Thai It, You'll Like It – Coconut Chicken Soup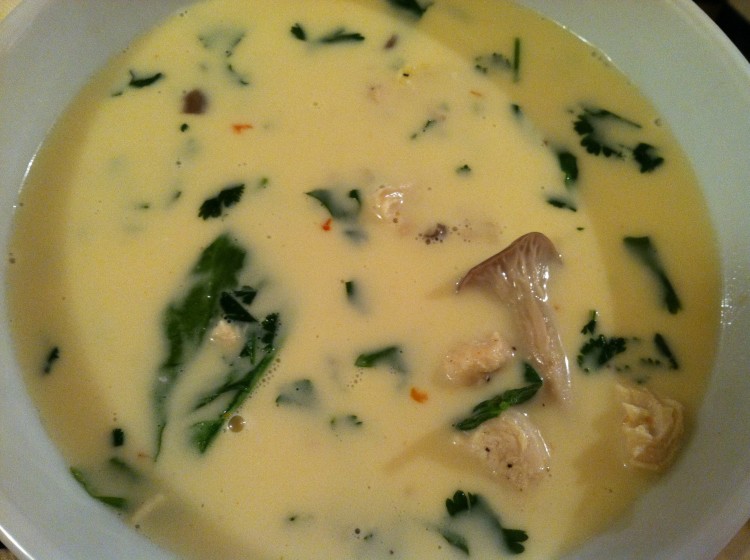 This is quick and easy to make and SOOOO yummy!This is one of my very favorite Thai dishes.  To be honest, while it calls for using lemongrass and fish sauce, those are not ingredients you can pick up in just any local market, so I have often made the soup without using them and it is still really, really good!  You can usually find lemongrass and fish sauce at Whole Foods or certainly at an Asian market if you happen to live near one.  If not, don't let that stop you from making this.  Both the coconut milk and the chili paste can usually be found in your neighboorhood grocery store on the aisle where the Asian foods are kept.
Coconut Chicken Soup (Tom Ka Gai)
1 can (14oz.) coconut milk
2 cups chicken boullion (I like the Better Than Boullion brand)
1 lb. boneless chicken cut into chunks (you can also use left over roasted chicken cut into chunks to make preparation even faster)
6 slices of fresh ginger (peeled of course)
1/2 pound mushrooms sliced (sometimes my market has oyster mushrooms and they are delicious in the soup)
1 stalk lemongrass (optional)
1 tablespoon Thai or Vietnamese fish sauce ( also optional)
2-3 tablespoons fresh lime juice (roughly the juice of 1 lime)
1 heaping teaspoon Thai or Vietnamese chili paste (you can also use 1 chopped and seeded serrano chili if you can't find the chili paste)
1/4 cup fresh cilantro leaves
1/4 cup fresh basil leaves chopped
Put everything except the cilantro and basil in a pot and bring to a boil.  Cook simmering for about 10 minutes to allow the chicken to cook through.  (If you are using cooked chicken just bring everything to a boil and you are ready to proceed) Add cilantro and basil and serve at once….DELICIOUS!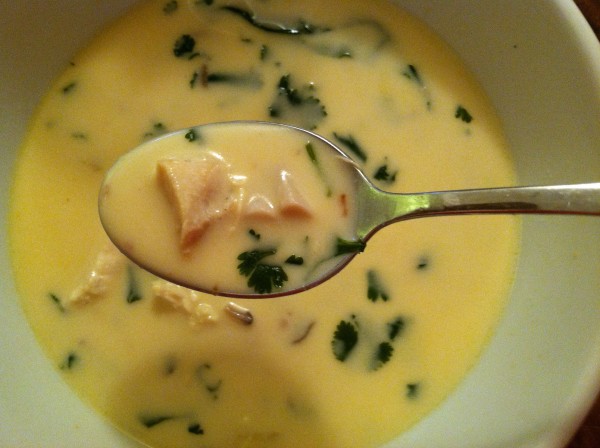 Seriously, take my word and try this (Thai this) ….you'll like it!