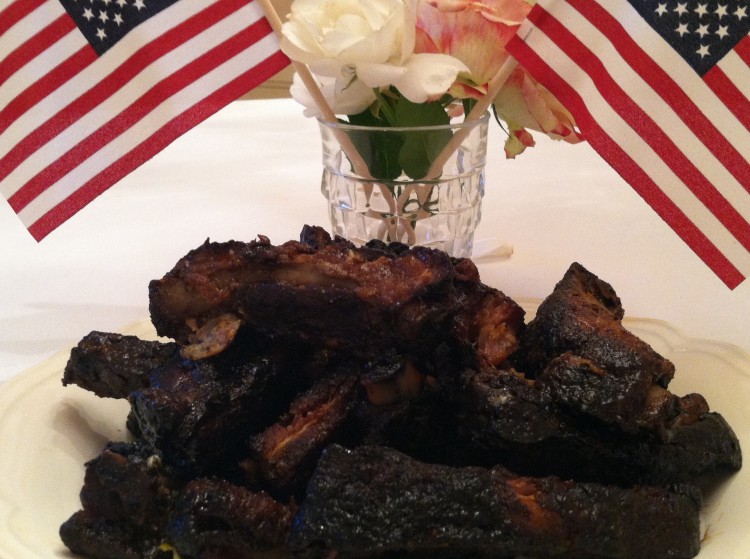 When  it comes to barbeque, I'm not just talking about grilling.  I mean real true blue Texas style barbeque which involves some smoke and some patience and a lot of napkins

Menu
Baby Back Spareribs
Classic Potato Salad
Cole Slaw
Corn on the Cob
Watermelon
Deviled Eggs
Homemade Strawberry Buttermilk Ice Cream
Baby Back Spareribs
12 lbs. ribs
Dry Rub *(see below)
Sauce**
1-2 bags Mesquite chips
Charcoal
Soak mesquite chips in water for 30 minutes.  While they are soaking, prepare the ribs and the barbeque.  Rub slabs of ribs generously with dry rub.*  Meanwhile light a fire at one end of barbeque only.  When coals turn white, spread a couple of handfuls of wood chips on top of the coals. Place ribs on the grill away from coals and fire.  Cover and smoke ribs for 3-5 hours.  Add more soaked wood chips every hour and maintain a temperature of about 275 degrees.
When they look good and smoky (they will be pink and a little crusty on the outside from the smoke) remove ribs from the grill.  Cut the ribs apart and dip into sauce to coat.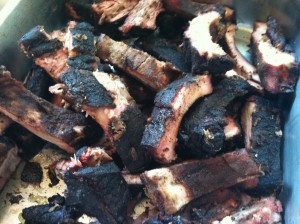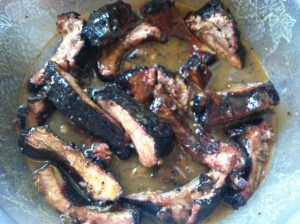 Place on a lined cookie sheet and bake in the oven at 350 degrees for 1 hour or until very tender and very crusty on the outside.  Grab some napkins and taste a little bit of heaven!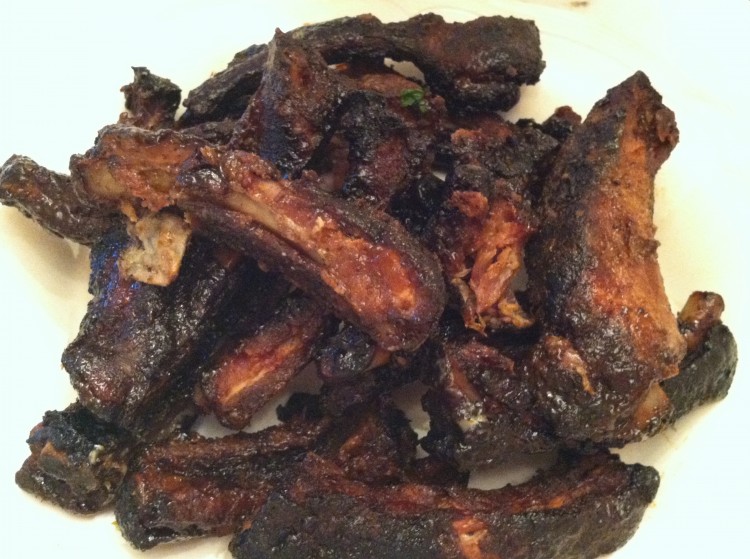 *Dry Rub
1/4 cup kosher salt
1 Tablespoon ground black pepper
2 teaspoons cayenne pepper
**Sauce
1 bottle of your favorite beer
1 box (approximately 4 cups) brown sugar
2 cups dijon mustard
Mix together well.  Can be made ahead and refrigerated.
Classic Potato Salad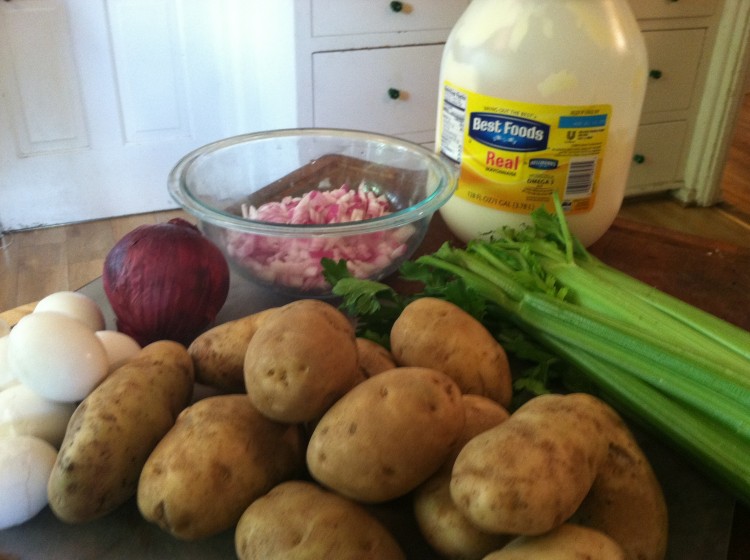 10 potatoes
1 red onion chopped
1 /2 whole stalk of celery
10 hard boiled eggs
Best Foods mayonnaise
salt and pepper to taste
Peel and chop potatoes in about 1 inch chucks.  Place in a pot and add just enough water to cover.   Add 1 tablespoon salt to water….(this sounds like a lot of salt but most of it is poured out when potatoes are drained).  Bring water to a boil and cook potatoes until just slightly underdone, about 3-4 minutes (you will be able to pierce with a fork but potato won't be falling apart).  Drain and allow to cool.
Meanwhile, chop celery, including leaves of celery, and onion and place in a large mixing bowl.  Peel eggs and grate into the bowl.  Add cooled potatoes.  Start adding mayonnaise, a couple large spoonfuls to start and mix together.  Keep adding mayo until you have the desired consistency.  Stir in salt and pepper to taste.  It may take more than you would think but start by adding 1 teaspoon each of salt and pepper and then taste and continue adding until it tastes right.  Cover and refrigerate until ready to use.  The potatoes will absorb the mayo as it continues to cool,  so if the salad seems too dry when you take it out of the refrigerator just add little more mayo.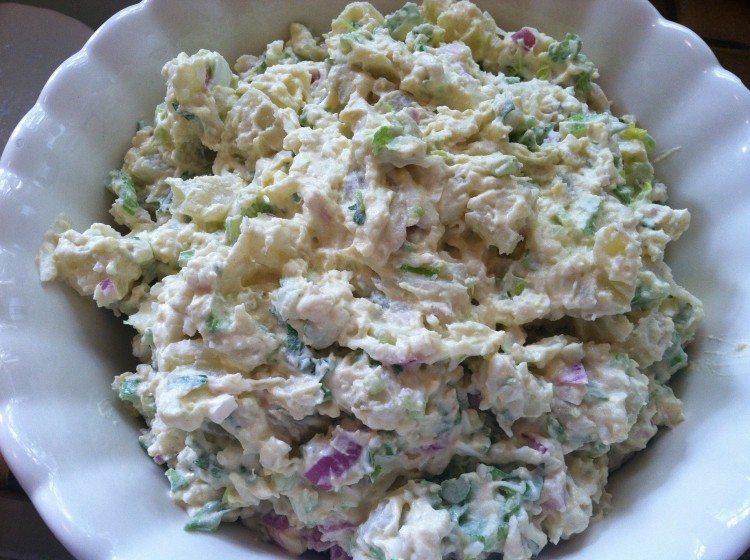 Cole Slaw
1 head of green cabbage
1 bunch Italian parsley
1/2 whole stalk of celery
1 bunch green onions
3 Tablespoons sugar
1 Tablespoon vinegar
1 cup Best Foods Mayonnaise
1/3 cup Dijon mustard
Salt and pepper to taste
Slice cabbage very thinly and then chop to shred.  Place in a large mixing bowl.  Chop parsley, celery and onions and add to cabbage.  In another bowl, mix together the mayo, mustard, vinegar and sugar.  Add to cabbage and stir well. Taste.  Add salt and pepper as necessary.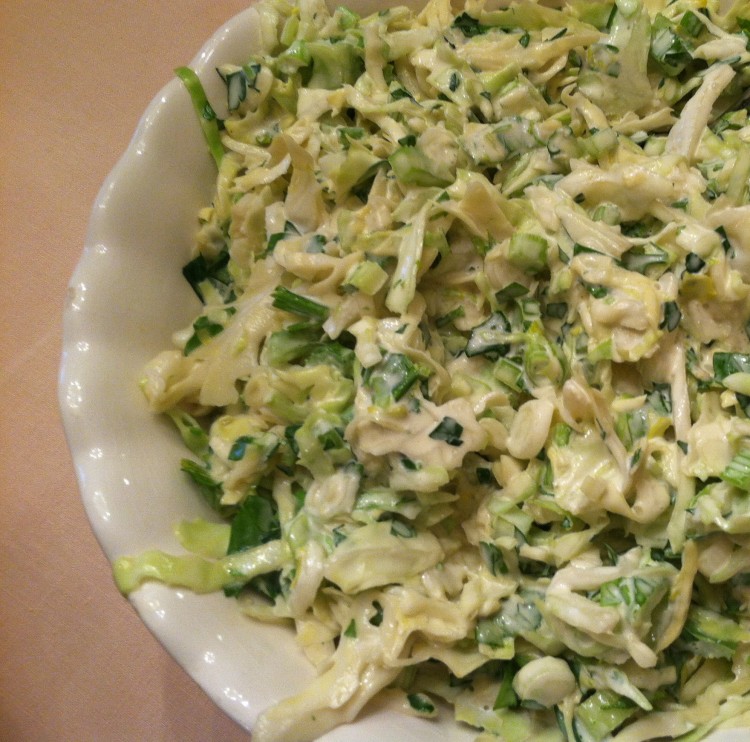 Watermelon and Corn on the Cob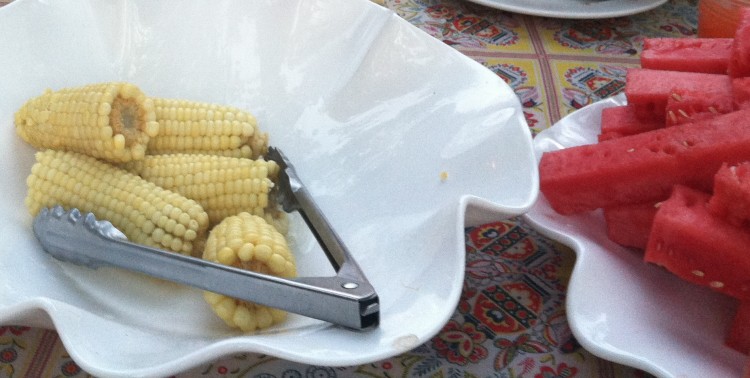 Strawberry Buttermilk Ice Cream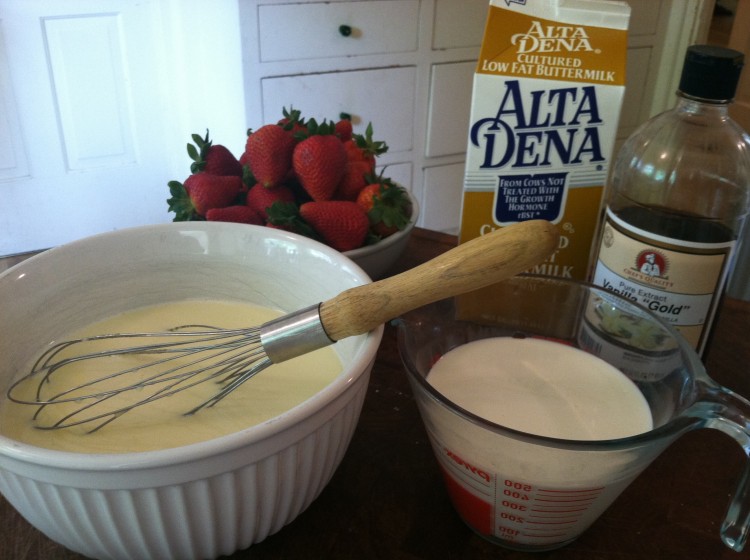 The addition of buttermilk seems like an unlikely paring with the strawberries but the little bit of tartness and tangy flavor of the buttermilk actually brings out the sweetness of the strawberries and increases their flavor.
4 cups buttermilk
4 cups heavy cream
4 cups strawberries, cut into very small pieces
2 cups sugar
6 eggs, separated
1 teaspoon vanilla
1/4 teaspoon salt
Add 1 cup of the sugar to the cut up strawberries and mash with a potato masher.  Set aside for 5 minutes, stirring regularly to draw out the juice.  Separate eggs and whip egg whites until fairly stiff.  In another bowl, beat together 1 cup of sugar, salt and the yolks of the eggs until the mixture is thick and light yellow in color.  Add vanilla to yolk mixture and then mix in buttermilk and cream.  Stir well to mix.  Stir in strawberries and then add in whipped egg whites.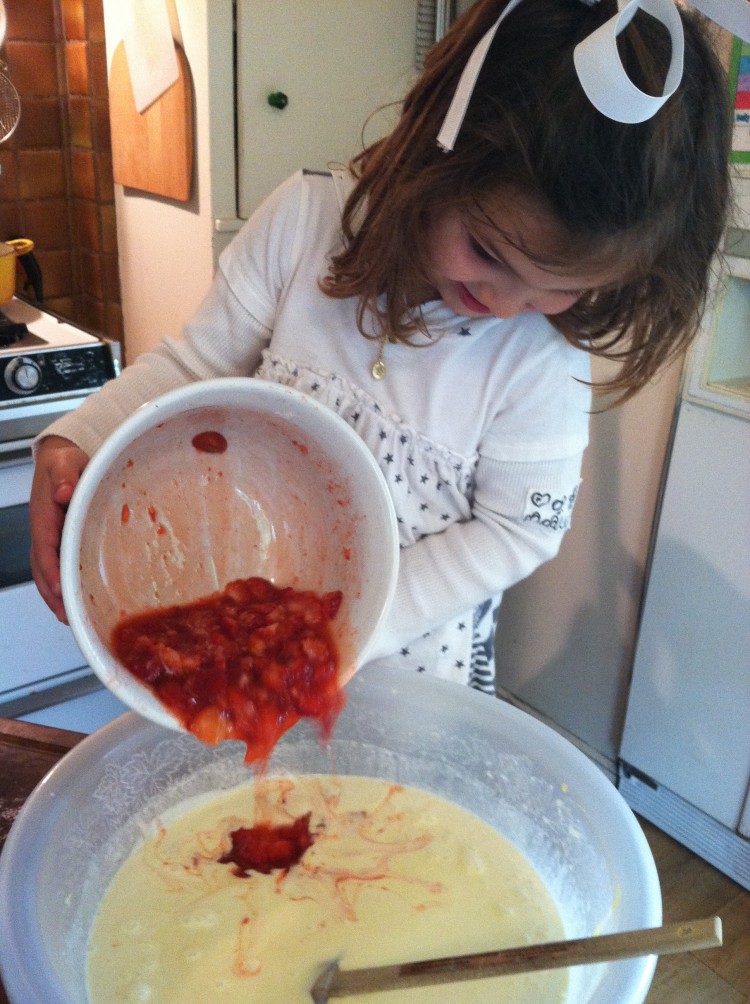 Mix well with a wire whisk.  Freeze in ice cream freezer according to the manufacturers directions.  The ice cream is best if you remove from the ice cream freezer when done and place in your refrigerator freezer for 1 hour to "ripen".  It is a very satisfying finish to a very satisfying meal….enjoy!