Sweet Smell Of Success
 Over the last two weeks we have been linking our posts here at Two Chums, to topics that are in some way related to the Olympics. So, you might be asking yourself what coconut has to do with the Olympics or The Sweet Smell Of Success….a good question, so allow me to explain.
All athletes, especially those who make it all the way to the Olympics, work hard and necessarily sweat…a lot.  I have "a thing" about smelling good and wanting always to feel fresh, so the deodorant I use really matters to me.  For years I only used the strongest antiperspirant I could buy.  But after reading a number of articles about the link between breast cancer and antiperspirants  (due to the fact that they block the sweat glands near your breasts) I decided that might not be the best plan.  Then I read some things about the possible links between the aluminum chlorhydrate in deodorants and Alzheimer's disease, and I had another quandary about what to do to stay dry and fresh without using substances that might not be really healthy.
I'm not one who worries every time I read something that questions the possible harm something that is commonly used may cause.  But given what seems like a rise in breast cancer (at least among the people I know and love) and a rise in the number of people who are suffering with Alzheimer's (hardly a week goes by that I don't hear about someone else who is suffering with it) I did feel a little inner voice prompting me to think about this.
I will admit that I like things that are pure and natural over things that are synthetic and chemically based.  I had tried all the other "natural" deodorants on the market, the roll-ons, the solids that were supposedly unscented, the salt rock, and they either had a strange odor of their own, or they didn't really work to keep me feeling fresh after a week or so of use.  And none of them kept me dry,  so when I inadvertently came across a "recipe" for a homemade pure, natural deodorant that was a snap to make with ingredients that are easy to come by, I thought I would give it a try.  Though I didn't really have very high expectations I figured it would cost next to nothing to make, and certainly take no time, so what did I have to lose?
I had nothing to lose, but what's more important is what I gained….yep, you guessed it….The Sweet Smell Of Success:)  This is the BEST deodorant I have ever used and the only one I will ever use again!
Give it a try….I hope you are as pleased as I have been.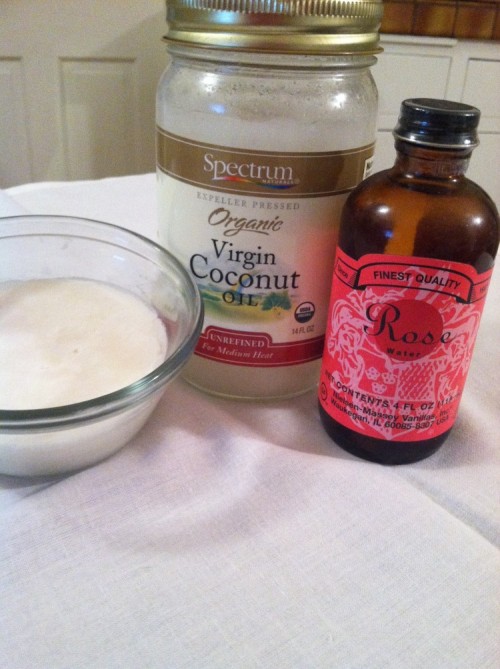 HOMEMADE COCONUT OIL DEODORANT
1/4 cup baking soda
1/4 cup cornstarch
4 tablespoons melted unrefined* extra virgin coconut oil (I melt it by running the jar under hot water)
10 drops essential oil (optional)
small container with lid (preferably glass)
So you may be asking "Why do these ingredients work?"  Good question, I was curious too.  Here's the short answer:  The baking soda absorbs odors, the cornstarch absorbs wetness and the coconut oil softens skin and acts as an anti-fungal/anti-bacterial agent. The essential oil will add properties as well, depending on which type you choose. Orange oil (which I really like best) has antibacterial effects and smells really nice.  Another option is rose water which is made from rose oil and obviously smells nice as well, without having any really strong scent that might fight with your perfume. Lavender is another antibacterial essential oil that works well.
*Make sure you purchase unrefined extra virgin coconut oil, not the refined oil.
How To Make
Combine the baking soda and cornstarch in a small bowl.  Add essential oil of your choice if you're using it.  Then combine it with the melted coconut oil.
Mix together the dry and wet ingredients and stir well.  That's all there is to it!  The mixture will set up in just few minutes as the coconut oil cools. When it's ready, the mixture will be white and solid.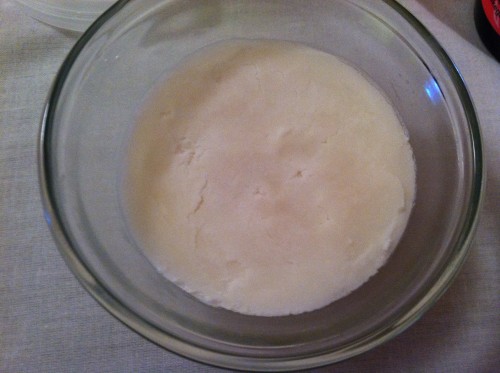 How To Use
Scoop out a small (pea-sized) amount and rub into your underarm.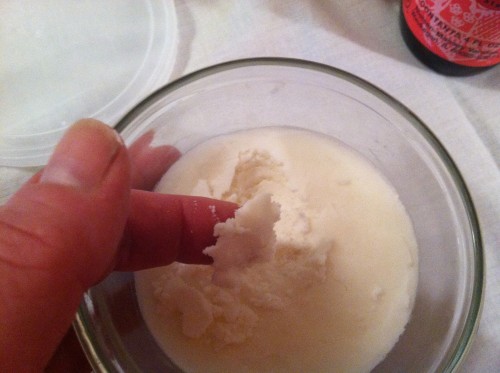 The mixture will melt into a spreadable cream once it's on your warm underarm. Allow it to absorb a bit before you put your clothes on if you are wearing something sleeveless so you don't have any residue.
How To Store
I store my deodorant in a little glass pyrex bowl with a lid in my dressing room.
I LOVE how dry and fresh this deodorant keeps me!  I think you will love it too


P.S. Your Two chums always want to give credit where credit is due, so I apologize for not referencing the original website where I found this info.  I don't still have it and though, in a Google search I found other sites with the same or similar "recipe", I failed to locate the site where I originally found this info.