Simple Soft Homemade Pretzels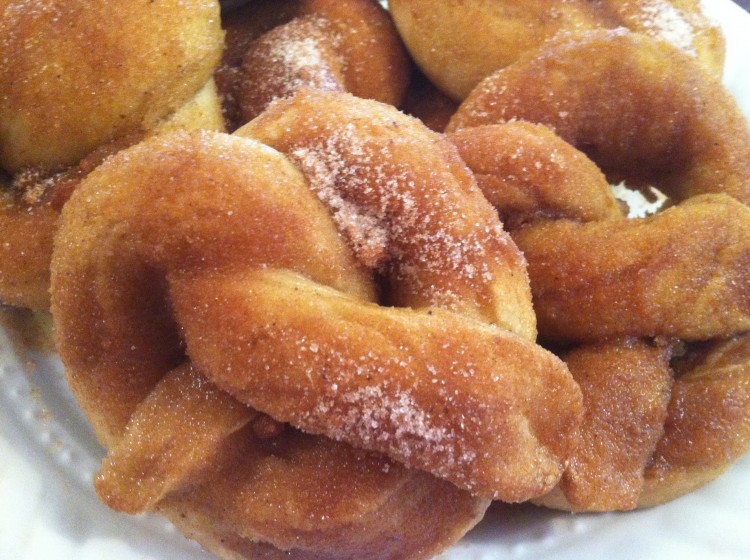 As Fall sets in, what could be more inviting than a warm soft homemade pretzel?!!!  And yes!…anyone can make these

DO NOT be fooled into thinking that these must be too difficult to try.  OR that because the recipe involves yeast they are beyond your ability to make.  They are perfectly delicious, soft and chewy.  You can top them with coarse salt and eat them with spicy mustard and maybe some homemade pickles.  Our great chum Leah, over at  Freutcake.com, has a VERY simple and delicious recipe and video to show you just how easy it is to make your own pickles.
Or if you are in a "sweet" mood, brush them with butter and sprinkle them with cinnamon sugar.  They are so simple and will be such a hit I predict you will be making them over and over and over again.  I've made 36 pretzels in the last three days since I made my first batch and my family has been tearing through them!
Give them a try this weekend.  And if you have little ones at home, let them help you.  As you can see from these photos they love being a part of the process and then love getting to eat what they made.
By the way, these would be a perfect addition to an Oktoberfest party.  So here's to a weekend full of  love, joy, abundant living and some soft homemade pretzels


Simple Soft Homemade Pretzels
1 1/2 cups warm water
1 pkg dry yeast
1 tablespoon sugar
1 teaspoon salt
4 cups flour (approximately)
Cinnamon Sugar
Mix together 1/2 cup sugar and 1 tablespoon of cinnamon
Add all the ingredients in the  bowl of an electric mixer and mix with the dough hook until all the flour is incorporated and the dough is soft.  If it feels really sticky add more flour a couple of tablespoons at a time.  Dough should be a bit tacky and soft but not really sticky.  Knead in the  mixer (or by hand) for about 5 minutes. (If you don't have a mixer with a dough hook you can do this all by hand, it will just take a bit longer).
Turn dough out onto a lightly floured board.  Cut dough into 12 or 16 pieces depending on how large or small you want your pretzels to be.  Roll each piece out into a long rope or as my grandchildren call it "a snake"… about  18 inches long.  Place dough rope into a U shape.  Twist the ends of the dough around each other twice and then turn ends back down and press into the bottom of the U shape as in the photos below.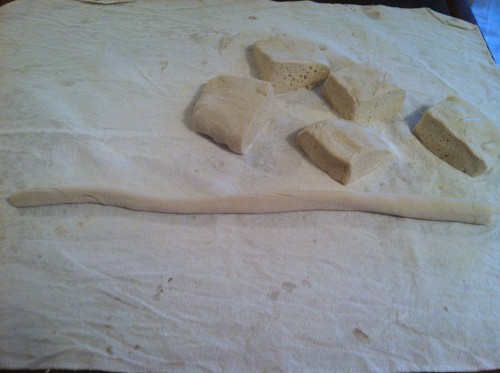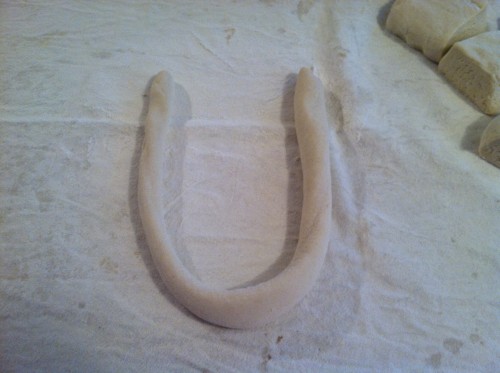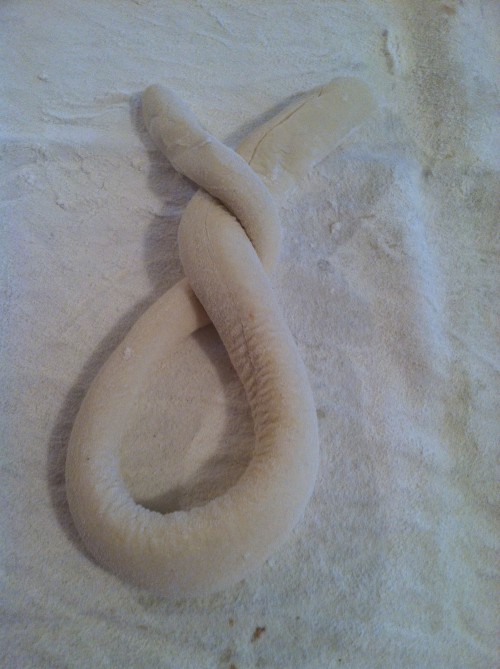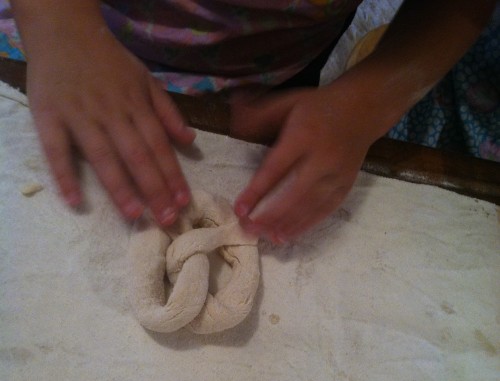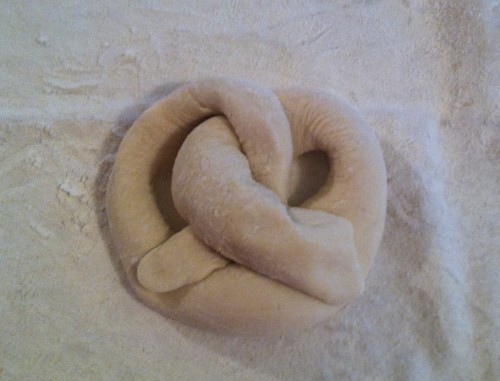 The next step is what makes a pretzel classically chewy and …well…a pretzel and not a knot shaped dinner roll.  Bring 8 cups of water and 3/4 of a cup of baking soda to a boil.  Add shaped pretzels, about 3 to 4 at a time, to boiling water and allow to sit for about 30 seconds.  Remove from boiling water with a wire scoop or slotted spoon and place on a buttered baking sheet.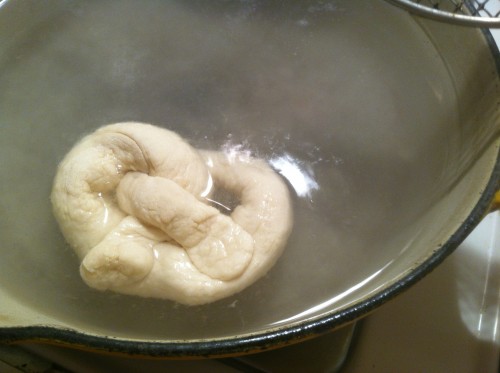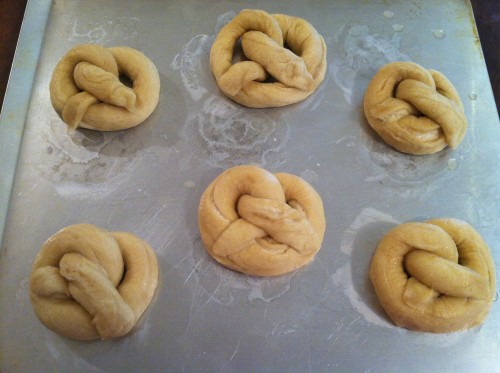 If you want salted pretzels, brush them with egg white and sprinkle with salt now before baking.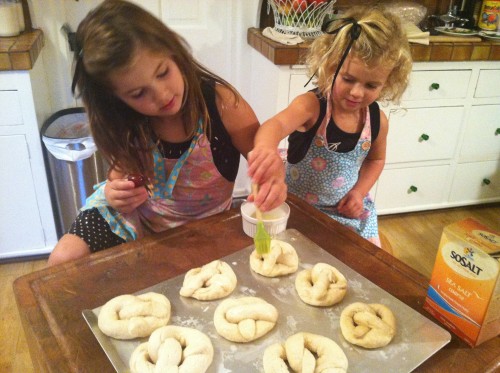 Bake the pretzels in a preheated 425 degree oven for 10 minutes until golden brown.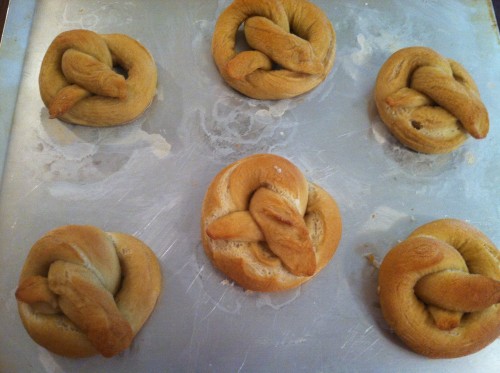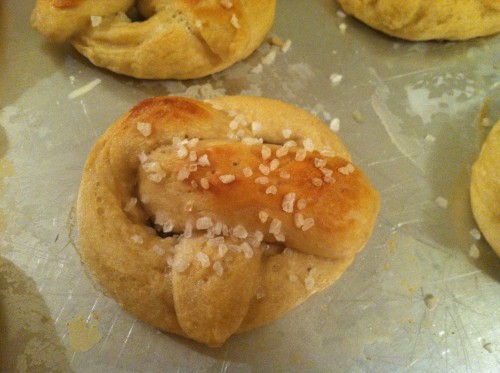 For cinnamon sugar pretzels brush well with melted butter and sprinkle with cinnamon sugar.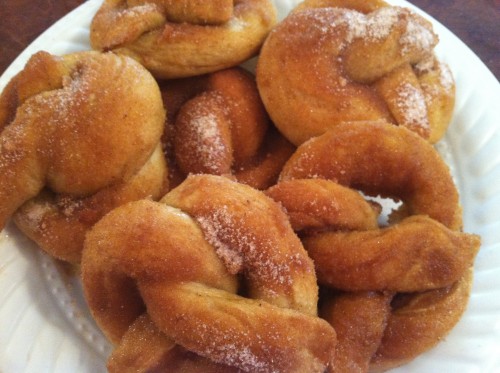 These are fun to make and as you can see, just as fun to eat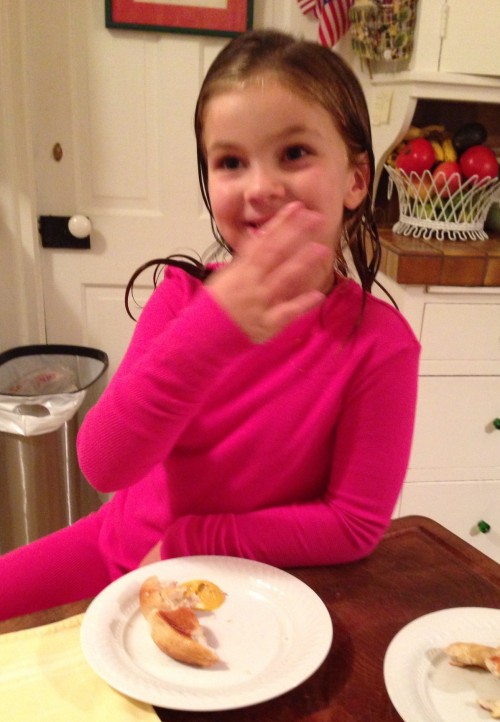 You may note if you are a regular visitor to Two Chums that my granddaughter ,Savannah is often my helper.  She loves to cook and is truly always a big help to me in the kitchen.  Today is her 6th birthday.  So please join me in saying Happy Birthday sweet Savannah!