Salad Days – Kale Salad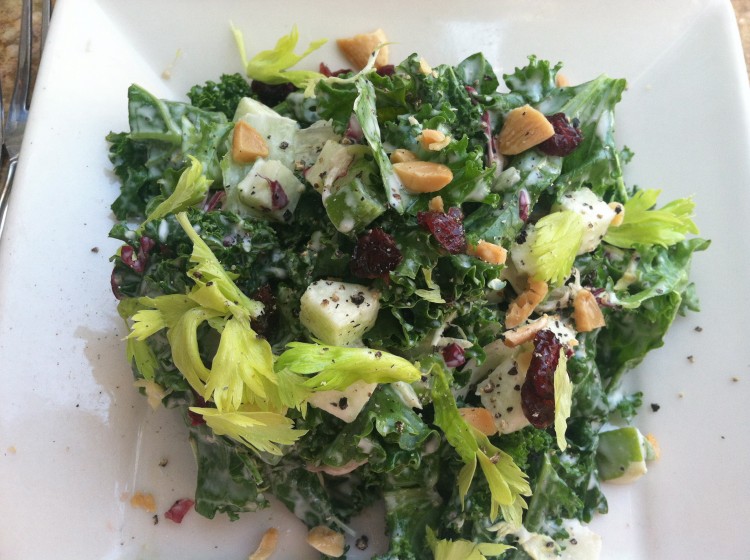 Nothing tastes better for lunch or dinner on warm summer days or nights than a refreshing crisp salad.  Cool and crunchy and perfectly dressed, this Kale Salad surely fits the bill…oh and did we mention it is really healthy too?


Kale, until recently, has been a somewhat underused and overlooked green.  Kale's health benefits, whether lightly steamed or served raw as in this salad, are impressive by anyone's standards.  It is good for you on three big counts:
(1) antioxidant nutrients
(2) anti-inflammatory nutrients
(3) anti-cancer nutrients in the form of glucosinolates.
You can read more about the health benefits of eating kale.  OR you can take our word for it and  make this delicious salad for lunch or dinner!  One imprtant thing to remember is to always buy organic produce when you can and wash your fruits and vegetables really well before storing and eating.  They can have bacteria and residue from pestisides and you don't want to be eating either of those.
Kale Salad with Buttermilk Dressing
1 -2 bunches of fresh organic kale
1/2 cup dried cranberries
1 cup marcona almonds or raw blanced almonds
1/2 cup Danish blue cheese crumbles
1/2 cup chopped celery with leaves
1/2 cup chopped green onion
2 roasted chicken breasts, chopped (alternatively you can use a store bought roasted chicken and chop or shred breasts or thighs)
Wash and dry kale leaves and then remove leaves from stems and chop kale leaves.  Add remaining ingredients and  toss lightly with Buttermilk Dressing.  Serve with freshly ground pepper and warm French Bread.
Buttermilk Dressing
3/4 cup buttermilk
3/4 cup mayonnaise
1/4 cup apple cider vinegar
2 tablespoons honey
1 clove garlic
1/8 tsp cumin
1/2 teaspoon celery seed
1/4 tsp fresh ground pepper
1/2 tsp salt
Combine all ingredients in blender and mix thoroughly.  Use sparingly at first on salad just until it is perfectly dressed to your taste.
Here's to abundant summer living and happy eating