Salad Days – Aunt Nancy's Taco Salad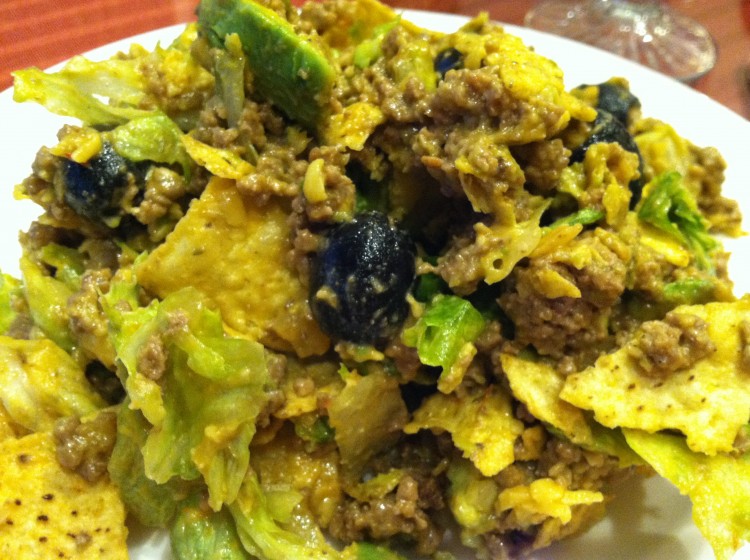 Many years ago my darling cousin, Nancy Joy, served my son, Trevor, and I a wonderful taco salad.
To this day, Trevor and I take great pride in making and serving this taco salad – and love eating it too!
2 lbs ground beef, sautéed
1 lb sharp cheddar cheese, grated
1 can black olives
2 cups salsa (mild, medium or picante, depending on your taste)
1-1/2 heads of iceberg lettuce
3 handfuls of tortilla chips
4 avocados, peeled and chopped (medium sized pieces)
Wish Bone French dressing (to taste but at least half a bottle) OR try our homemade French Dressing
Salt and pepper to taste
Break up the iceberg lettuce and place in salad bowl
Then put the olives, avocados and salsa on top
Put cheese on top of that, spreading it out over the whole surface
Next, put the hot sautéed ground beef over the cheese, thereby melting the cheese
Let sit for two minutes
Add French dressing and toss
Just before serving, add the tortilla chips and toss once more.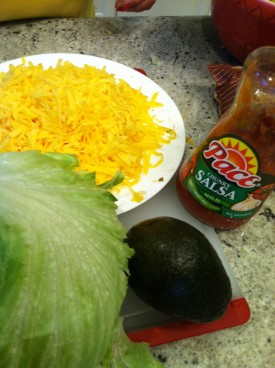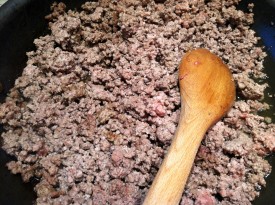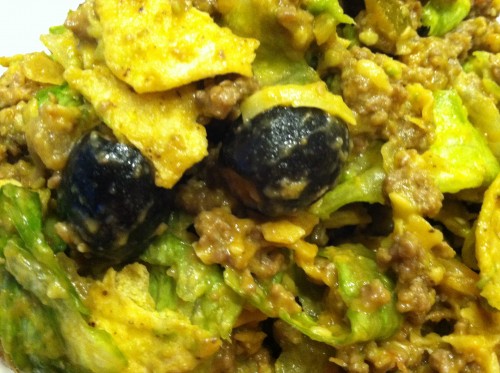 And there you have it – a wonderful, scrumptious, taco salad!
Hope you enjoy it as much as we do!