Mediterranean Pasta Salad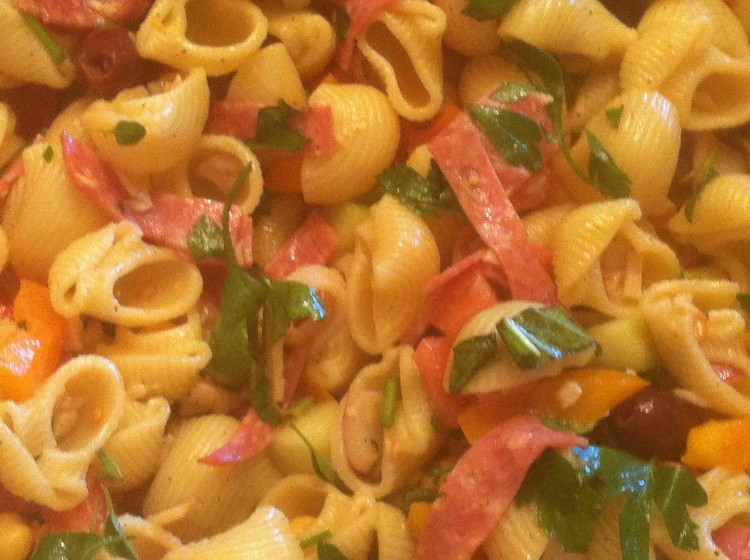 What's more Mediterranean than pasta, tomatoes, peppers, salami and olives?  Put them all together and you've got one great pasta salad!   Usually chopped salad involves lettuce of one kind or another.  But, who says it has to?  We added all sorts of things you would normally find in a chopped salad, to pasta instead of lettuce, and the results were delicious!  This is perfect for a simple family dinner or a big crowd.  Try it….we are sure you'll agree this Mediterranean dish will lead to a sense of abbondanza!

Chopped Mediterranean Pasta Salad
Tomatoes
Cucumbers
Olives (be sure you get pitted olives)
Onions
Peppers
Parsley
Fresh basil
Garbanzo beans
Hard salami
Sliced turkey
Grated mozzarella cheese
Italian dressing (recipe follows)
Cook the pasta until just tender in boiling salted water.* Drain and rinse the pasta in cold water. Pour some extra virgin olive oil over the pasta and stir to coat. Allow the pasta to cool while you finish chopping the vegetables and meat. The oil will keep it from sticking together as it cools.
Chop each of the vegetables into pieces that are about the same size.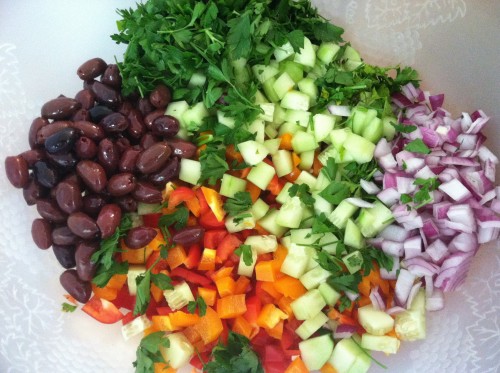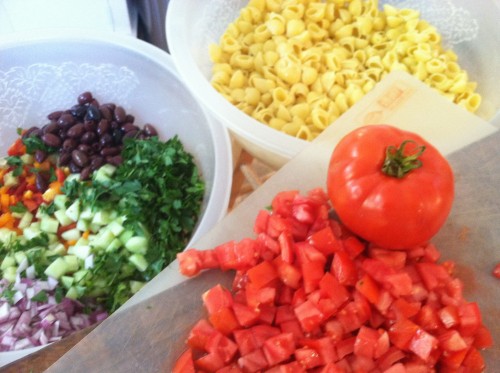 Add garbanzo beans.  Slice the salami and the turkey into strips. Add to vegetables along with the cheese. Add enough dressing to fully cover all the chopped ingredients.

Add all this to the pasta and stir to combine. Add additional dressing as needed. The longer the salad sits before you serve it, the more dressing you will need to add as the pasta will continue to absorb the dressing as it sits.  If you are making it hours ahead of serving it or even the night before, toss it with the dressing, cover and refrigerate it and then add more dressing just before serving it.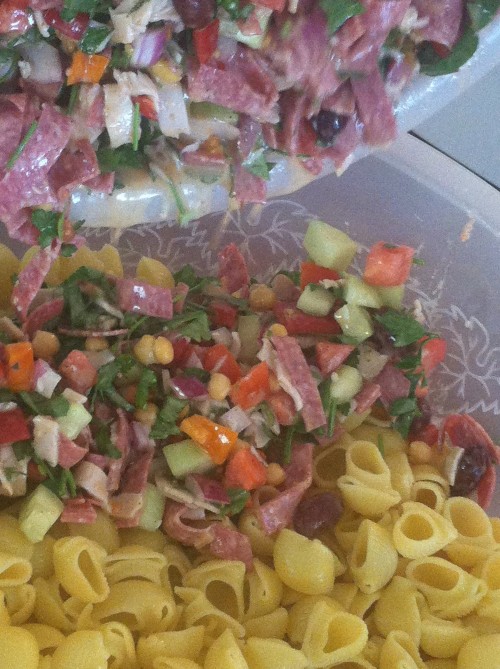 The amount of vegetables and meat will vary according to how much pasta you are using.  Use roughly the same amount of each of the vegetable and meat ingredients.  When you combine them all together, you should have at least twice as much of the vegetable and meat mixture as you have of the pasta.
If you are using 1 pound of dry pasta for example that will make approximately 8 cups of cooked pasta.  So to that pasta you would want to add about 16 cups of mixed vegetables and meat and cheese. You can see why this is good to make for a crowd

Dressing
1 cup extra virgin olive oil
1/2 cup red wine vinegar
1/4 cup sugar
1 tablespoon Coleman's dry mustard
2 teaspoons salt
1 teaspoon freshly ground pepper
1 cup grated Parmesan
In a blender add vinegar, sugar, mustard, salt and pepper and mix together.  Add in oil and blend until dressing thickens. Add Parmesan cheese and blend just to combine.  Use as much as needed on your pasta salad and store any leftover dressing in a jar in the refrigerator.
* The key for flavorful pasta, whether served hot or as it is here in a cold salad, is to cook it in water that is very salty. The pasta absorbs the water and salt as it cooks and becomes very flavorful. It will never taste as good if you attempt to wait and add the salt after you've cooked it. Doing it that way simply gives you salty pasta rather than flavorful pasta.