Just Peachy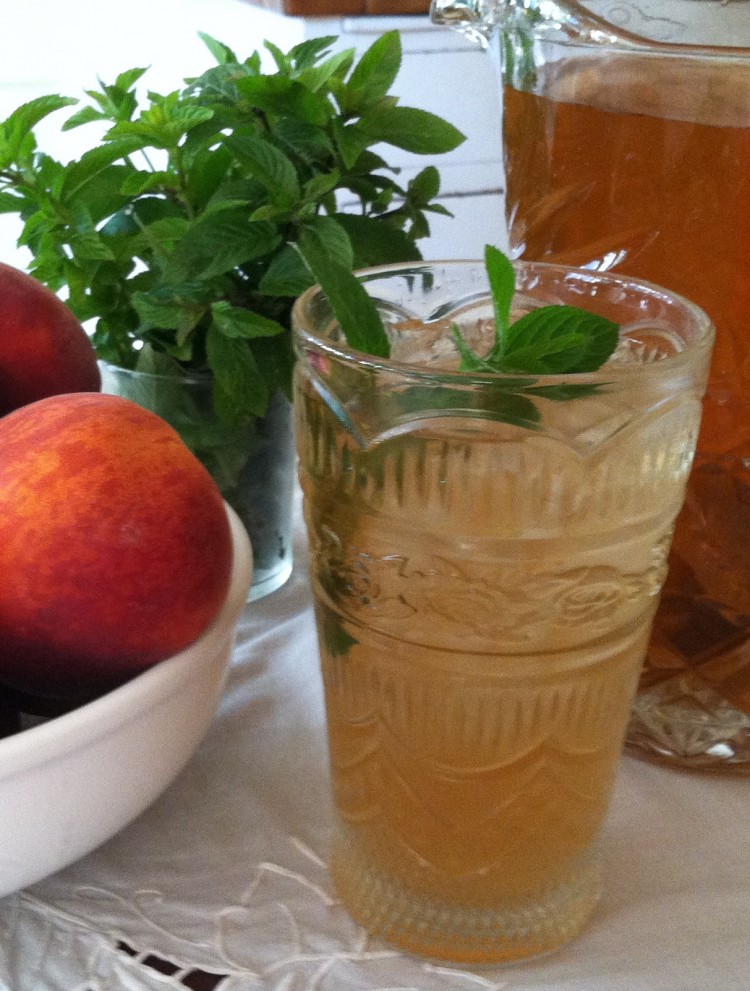 I love peaches.  There are few things that say "summer" to me as much as a sweet, ripe peach.  I am talking about the kind of peach that is so juicy you have to eat it over the sink or holding a napkin under your chin because the juice runs down your face when you bite into it.  The kind of peach that is so sweet your fingers and hands are all sticky when you're done.  But you probably don't even care because you feel like you just had a little taste of heaven.  Just the fragrance that a bowl of ripe peaches gives off makes me happy.  So today I am going to share some "peachy" drinks that I love and hope that you might enjoy them too.
The first is so simple but so satisfying.  I discovered it quite by accident.  Jackie and I and some of our other chums were having a tea party shower for a dear friend's daughter-in-law and were told that she really loves peach  tea.  Now I have to confess peach tea just didn't sound appealing because what I was conjuring up in my mind was something with some kind of artificial peach flavor.  Still I wanted Melanie to have what she liked so I set about trying to find a nice "peach tea" for her.  What I discovered was a tea that was not artificial at all.  It is from  Celestial Seasonings and you can find it at most any market or Target or Walmart.  The flavors are all natural and it makes a perfect iced tea!
Peach Iced Tea
Start by putting 4 tea bags into a heat proof pitcher.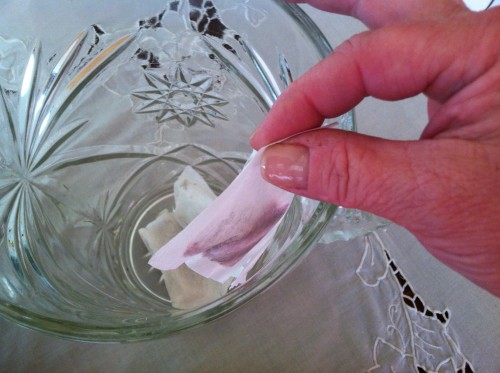 Next pour freshly boiling water over the bags of tea.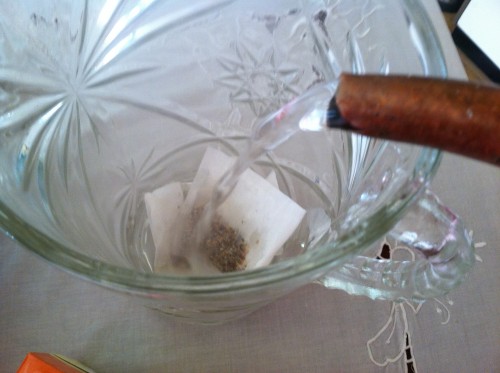 The boiling water should fill up about 1/3 of the pitcher.  Allow the tea to steep about 5 minutes.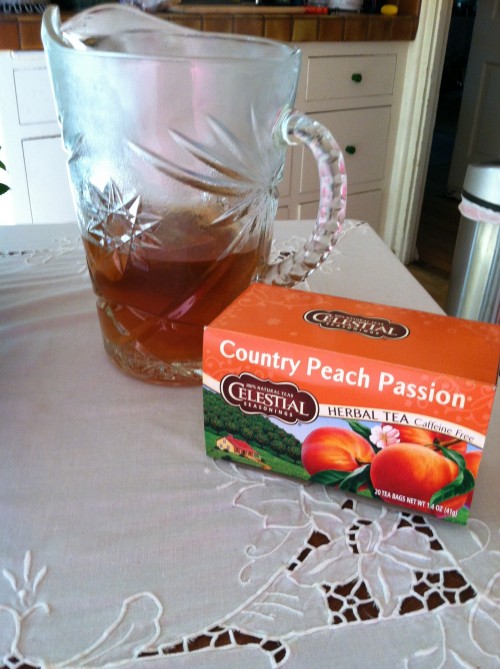 When tea has steeped it will be quite strong.  Fill up the pitcher with cold water.  Leave tea bags until ready yo serve.  Pour over ice and prepare to be completely delighted and refreshed.  I find that I don't need to sweeten this tea because the flavor is so pleasant, so I would encourage you to try it this way first.   If you find it isn't sweet enough for you as is and you prefer your tea sweeter, try adding a squeeze of agave syrup.  You can buy agave syrup in most grocery stores now and Trader Joes also carries it.  It is a healthy, all natural sweeter that doesn't compete with the flavor of whatever it is being added to and because it is liquid it dissolves easily in the tea, which is nice.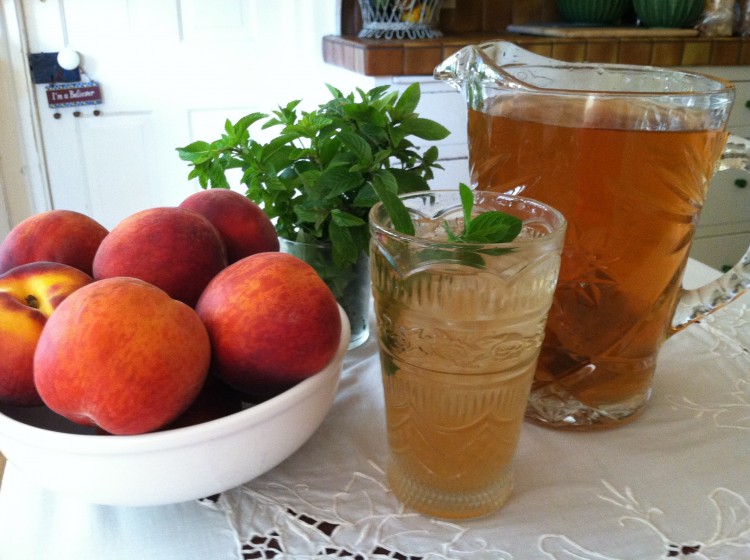 Sip it slowly and let the the cares of the day melt away

The next delicious drink I would like to share is a peach bellini.  This is both simple and simply delicious!  I prefer mine very cold and slushy so I use frozen peaches but you can also use fresh peaches as well, just be sure and peel them first.  In the blender combine about 1 cup of peaches, the leaves from 2 sprigs of fresh mint and a bottle of Prosecco or other sparkling wine.  Cava, a sparking wine form Spain, also works nicely and is very inexpensive.  Add the juice from 1/2  lime or lemon and a squeeze of agave syrup or 2 tablespoons of super fine sugar.  Blend just until everything comes together and garnish with a tiny sprig of fresh mint leaves.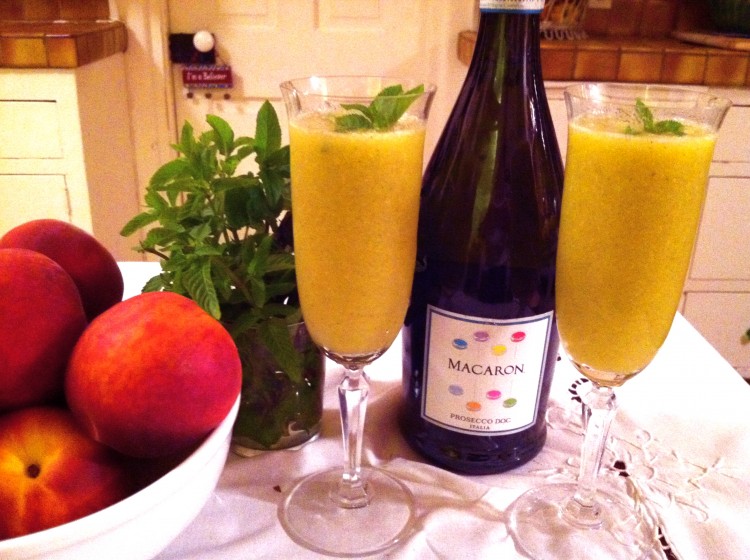 You won't be sorry you tried this!
Ginger Ale "Bellini"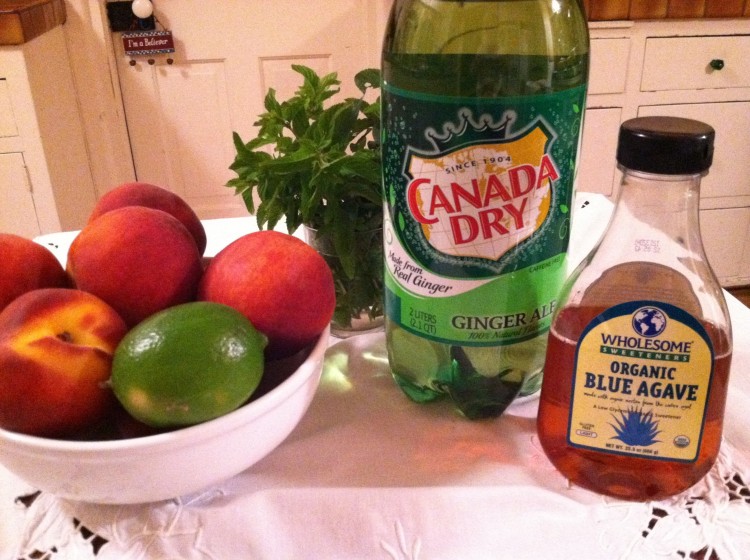 If you are serving children, or adults who don't drink alcohol, they can still enjoy your festive occasion with a non-alcoholic version of this tasty treat.  Simply substitute ginger ale for the sparkling wine.  Ginger goes especially well with peaches.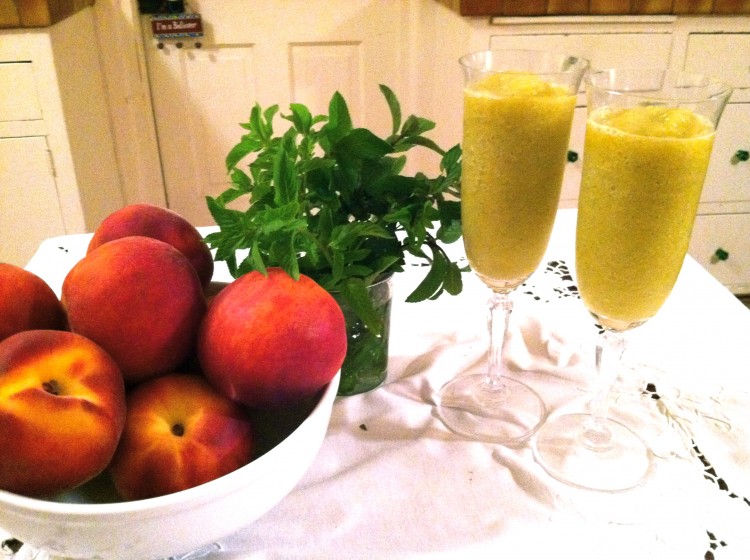 For another extra special touch, before you pour your drinks, moisten the rim of the glasses and dip them into super fine sugar.  Now enjoy….summer is calling:)