I Celebrate Her!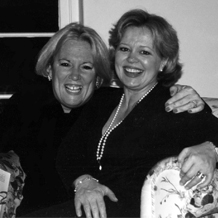 Today it is my turn to celebrate a very dear lady …….. Robin Northrup, my Chum! And such an amazing lady she is! 
The first time I met Robin sums up who she is.  I had just arrived in California with my son, Trevor, and was running around, getting organized.  There was something I had to do one day that would have totally bored Trevor.  I asked my cousin, Nancy, if she had any ideas for what Trevor might be able to do that day and, without hesitation, she said, "I'll call Robin and Randy and see what they are doing".  She called and found that they were taking their three girls to Knott's Berry Farm for the day and that they would be delighted to have Trevor come along.  Now, that was my first and lasting clue as to the generosity of these two wonderful people.  They had never met us before yet they were saying, "Of course, bring him over"!  And bring him over we did.  We dropped him off and he had the most fabulous day with the Northrups, forging a strong, familial bond with them all – a relationship that continues to be very important to him.   This was the beginning of our friendship and everything they have done in the intervening years has epitomized the word generosity.   Certainly Webster's could take a page out of the Northrups' book to describe the word.
To call Robin creative is such an understatement but what is a better word?  Creativissima?  Well, I know you understand what I am trying to say……she is totally above and beyond, in every respect.  Her cooking is scrumptious – she is second to NONE, her sense of style and color is inspiring to say the least, and the love she expresses is felt by one and all.   I desperately wanted to write the Post on "faux painting" that we did last week as I wanted to tell you all how incredibly well she does it, but, being the humble person she is, when she realized why I wanted to write it, she wouldn't let me touch it!  So, now I get my chance.  The vines and flowers and trompe l'oeil objects just drip off of her paintbrush.   You ask her to paint something and the next thing you know, there you have it.   She has such talent – it is a treat to watch her and learn from her.
It was because of Robin's amazing qualities that I knew she would make a wonderful business partner and it was thus that we embarked on our little shop called Chums.  We learned a lot, we laughed a lot, we prayed a lot, we rejoiced a lot.  How grateful I am for those years!
I could really go on for pages and pages but suffice it to say that Robin is an amazing person who loves a lot and who I have the privilege of calling "family".
Happy Birthday Robin, darling!