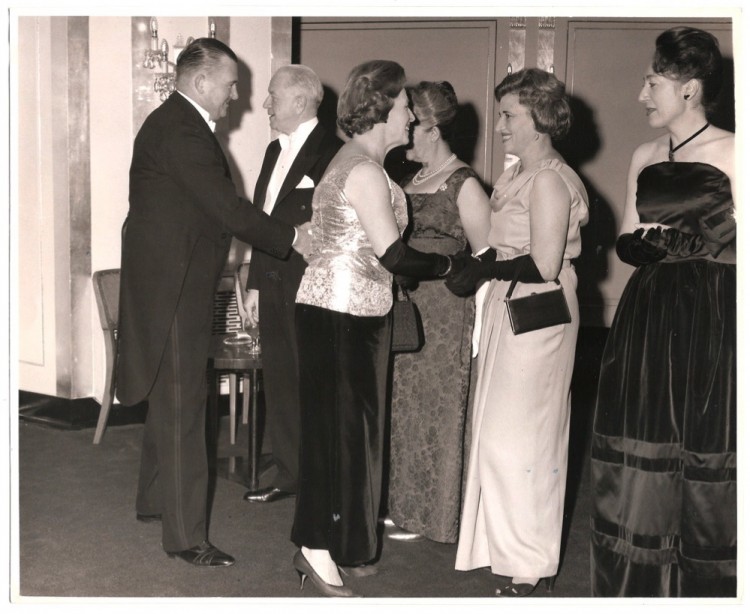 (Ruth Forsyth-Smith, Jackie's mum, on the far right looking quite stunning circa 1964)
What fun!  You have decided to give a dinner party …… now, what will you wear?
When you are in the planning stages of an event, one of the things you will think about is what you would like the "dress" to be.  The "dress" sets the stage for the type of evening you are going to enjoy.  You know, years ago, in the Ginger Rogers and Fred Astaire days, when people went out to dinner, they more often than not, wore "Black Tie".  By "Black Tie" it is meant that the gentleman wears a tuxedo and the lady wears a dressy dress – not necessarily a long dress but a party dress, as we like to call them.  We have often had parties where "Black Tie" was the attire and, oh boy, have we loved having them!  There is something rather special when everyone who comes in your door has made a huge effort to dress up to come to your party.  It denotes an elegance about the evening.  Very rarely these days does one get invited to a dinner party that is Black Tie but, on the other hand, many weddings are still "Black Tie".  When you see "Black Tie" in the bottom right corner of your invitation, be sure that your husband, boyfriend, partner, wears a tuxedo and that you dress up accordingly.  When those two words are written on an invitation, there is not an option.  He must show up in a tuxedo!  If he does not own one, be sure to help him rent one.  If, on the other hand, your invitation states "Black Tie Optional", your hostess is letting you know that the occasion is a special one and that, ladies, you need to dress up. Gentlemen, if you do not own a tuxedo, no need to rent one – a dark suit will do just as well.
If you would like your dinner party to be a little bit special, you might say "Cocktail Attire" which would mean that dressing up is in order!  Until a few years ago, "Cocktail Attire" would automatically have meant a jacket and tie for the gentlemen.   Today, especially here in California where we live, things are a little more casual and a lot of gentlemen do not don a tie very often.  There are certain private clubs which still maintain a "jacket and tie" rule so if you are giving a party at a private club or have been invited to such an evening, make sure you know the dress.  These clubs usually have jackets and ties on hand to lend to a gentleman, should he turn up without them but how much better for him to be in clothes of his own choosing!
As hostess, you will set the tone.   If you have told your guests that it is a casual evening, be sure that you dress casually.   Otherwise, your guests will feel very uncomfortable.
Choose something that you feel great in.  If you are having a problem thinking of something, remember what we said about the "little black dress"!    Certainly, that is always appropriate.  If you are the one doing all the cooking and serving for your dinner party, make sure you are in something that is comfortable and practical.  Do not wear a top with long, flowy sleeves, for example, which might catch on fire when you put the peas on to cook!   That top is better saved for an evening when you are out and being served!
My father's job, as I was growing up, required a lot of entertaining.   It seemed that most evenings, my darling parents were entertaining or being entertained.  My mother had a wonderful wardrobe full of stunning dresses which she wore extremely well.   Fortunately for my father, my mother loved it all and did it beautifully – always with a smile on her face and love in her heart.   I am grateful to have learned from her – she taught by doing herself!
Make sure, when you are giving you next dinner party, that you add to the love, joy and abundant living in the world!