Avocados – Not Just on Cinco de Mayo!
Even though Cinco de Mayo is the time that the most avocados are sold, we love them all year long!  There is NO time during the year that we do not love these wonderful yummies!  So, just because Cinco de Mayo has come and gone, be sure to have a good stock of avocados in your pantry or refrigerator.  They are so good for you as well as tasting great!
Living in California, as your Two Chums do, we are fortunate enough to have lots of avocados.  Ninety percent of the commercial domestic crop in the United States comes from the  coastal region of California from San Luis Obispo down to San Diego.  A small crop of avocados is grown in Hawaii but the Hawaian people know that they cannot let them leave the islands!  They save them for themselves!   Florida grows some avocados but their crop is much smaller.
In the 1930′s, a tree was discovered in the back garden of a mailman who lived in La Habra Heights, California.  This gentleman's name was Rudolph Hass.  Realizing that he had "struck gold" so to speak, he patented his "Hass" tree in 1935.  He had to wait about thrity-five years to the 1970′s until the Hass avocado became popular, but now, Hass is the most popular type of avocado grown around the world and all Hass trees can be traced back to that tree in La Habre Heights, California!
Avocados can seem a little costly but each one is picked by hand.  Because of the labor and the amount of water that is needed, the production costs are high.  Avocados mature on the tree but ripen once they are picked.  They can stay on their tree for up to eighteen months before you have to pick them.   If you live in an area where there is a Mexican market, go there to buy your avocados.  They will probably be a lot less expensive there, though this week, in California at least, avocados are very inexpensive in grocery stores everywhere for Cinco de Mayo celebrations.
Certainly, avocados are one of the things one thinks of when one thinks of Cinco de Mayo – mounds of delicious guacamole -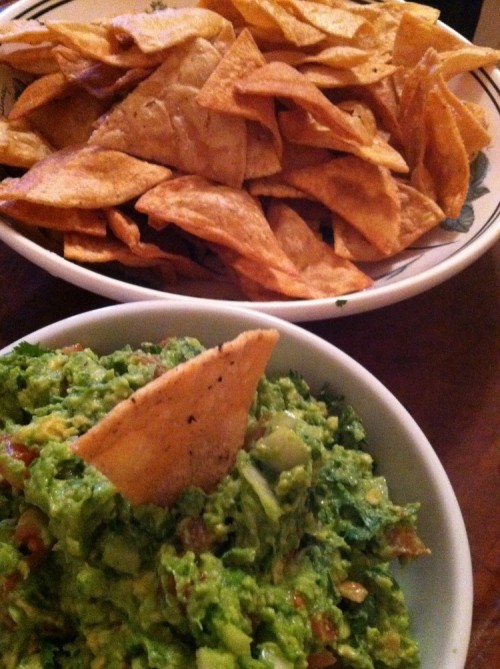 but it is not only in Mexican food that avocados are enjoyed!   In fact check out epicurious.com for wonderful ways to enjoy avocados.  Avocados are great in all sorts of ways.  Of course, guacamole is what always comes to mind (and certainly, at our houses, it does not stay in the bowl very long!),  but you can eat an avocado simply cut in half with the pit taken out with a little salt and pepper or vinaigrette dressing in the center.  Shrimps with cocktail sauce brimming out over the top of half an avocado is a yummy lunch or tuna or chicken salad is a delicious filling for these wonderful tasties!  Of course, in our opinion, what would a salad be without lots of avocado cut up in it?  Especially this salad made with tortilla chips and a creamy cilantro dressing.

Thanks, Mr. Hass for adding to our joy and abundant living!  We love your avocados!  And apparently a lot of other people do as well… in 2012, 1.6 billion avocados were consumed in the United States alone!  If you don't have any on hand, what are you waiting for?