A "Recipe" For Rest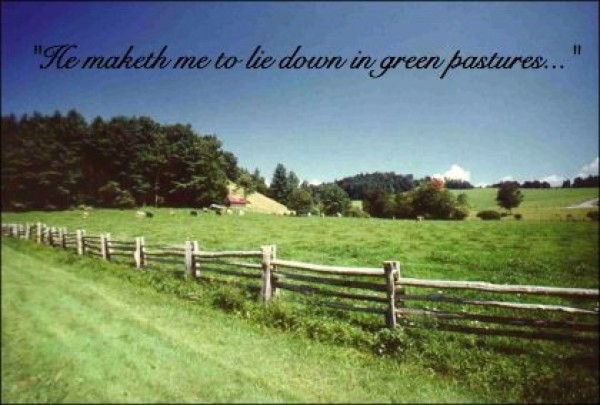 We all need to stop and rest from time to time.  This comes easier and more naturally to some of us than to others.  Until a few weeks ago I was one of those who resided in the "I'll rest when I die" camp.  Oh, I would claim that I could rest, or would rest, as soon as________(you fill in the blank), but those closest to me weren't fooled by my announcements of having rested or of my plans to do so soon.
It's really not that I was opposed to slowing down or stopping at times, or that I in any way thought less of those who did, it just always seemed that there was so much to do and so little time to do it all.  So, though family and close friends had admonished me repeatedly to "slow down", I just kept going at my normal clip and must secretly have been arrogant enough to think I just somehow was different than everyone else and didn't need to take time out.  But God had other ideas for me and like a "good father" with a busy child who isn't paying attention and is more tired than she knows, He took matters into His own hands and gifted me with a "time out" to rest.
On Thursday, July 19th I was carrying my baby granddaughter and hurrying to get out the front door when I tripped on a rug in our entryway and in an instant life changed.  With no free hand to help break my fall as I was going down, out of pure instinct  not to fall on my grandbaby and crush her, I turned my body to my  right side and came down with all my weight and hers, on my shoulder and arm.  As soon as I hit the floor I saw that she was OK, but knew instantly that something was very wrong with me.  My right arm was protruding in an unnatural angle and the pain was searing.
The Readers Digest version here is that my arm was dislocated, my shoulder was shattered, the ball of my arm that is supposed to fit into the shoulder socket was broken and the rotator cuff muscle of my shoulder was torn.  It was not a pretty picture.  At emergency they toldme after taking xrays that nothing was broken so it took more than a week, and constant horrible pain, for me to see another doctor and determine the extent of the injuries and the need for surgery. So last Thursday, August 2, for the very first time since having my tonsils removed at age 3, I went "under the knife".  My truly wonderful orthopedic surgeon, Dr. James Shankwiler, operated on my right shulder to put things back together as they should be.
Now I realize that none of that sounds like a "gift of rest" so let me explain myself.  Following the accident and ultimate diagnosis of the injury, it really didn't occur to me to ask God "why" this was happening.  But I did ask Him what it was He wanted me to learn from this experience as I firmly believe that everything happens for a reason.  In the days leading up to my surgery, I was definitely slowed down and in a lot a pain but didn't have any clear answer about the lesson I was supposed to be learning.  Then last Monday, my pastor (who is like an "adopted son") Albert Tate, came by to pray for me on his way out of town for a week.  The usual petition for healing and a speedy recovery that you would expect someone to offer in a prayer was there, but before he finished the Lord used Albert to give me my answer about what He was trying to teach me.  I will never forget what he said, because though it was Albert's voice, they were God's words to me.  He said, "Lord we know that sometimes when you want to get our attention you make us to lie down in green pastures so you can give us the rest we need, rest for our bodies and rest and restoration for our souls."  That was my answer right there in a prayer from Albert and God's words from the 23rd Psalm.  It is a passage of scripture that I have known by heart since childhood and have repeated to others countless times, but never heard it that way before.  I always heard or read it 'He makes me to lie down in green pastures' as if God allows me to lie down… not 'He MAKES me lie down."
In this past week since the surgery I have had some very sweet times of rest in the "green pastures" of my home.  I have had much time in the wee hours to sit with God, to pray for those I love and just to …well… just to be with the Lord.  In so doing, have known a whole new kind of rest.  The outpouring of love Randy and I have received from our precious daughters, extended family, dear, dear friends and my sweet Chum Jackie is so very humbling and  such a huge gift!   Meals have been prepared, cards and messages of well wishes have been sent, prayers offered on our behalf and phone calls made of care and concern that kept us encouraged, pillows adjusted endlessly to try and make me comfortable, cold drinks brought to my bedside before I ever even needed to ask for them,  medicine picked up and the sweet kisses and love pats from grandbabies who volunteered to take a turn to be my "nurse" have filled my heart and soothed my soul and body when I needed it most.  This is the first time I have needed to be on the receiving end of such helpful expressions of love.  Accepting help when you are used to being the one giving it has been a lesson in humility all to itself, and one I am ever so grateful to be learning.  It has been an endless contributor to restoring not only my body but also my soul.  All of the help is more appreciated than I know how to express in words.  Even as I write this, I am still learning new lessons in love, joy and feeling the overwhelming benefit of abundant living and resting in "green pastures."
"The Lord is my shepherd, I shall not want.  He makes me to lie down in green pastures.  He leads me beside the still waters.  He restores my soul.  He leads me in the paths of righteousness for His name's sake.  Yea, though I walk through the valley of the shadow of death, I will fear no evil, for You are with me.  Your rod and your staff will comfort me.  You prepare a table before me in the presence of my enemies.  You anoint my head with oil, my cup runs over.  Surely goodness and mercy shall follow me all the days of my life, and I will dwell in the house of the Lord forever."   Psalm 23
With a heart overflowing with gratitude for rest and for a restored shoulder and soul,